Les Casseurs de pub contre la société de consommation ! Stratégies de détournement pour convaincre
Using a semio-discursive approach, this article sets out to study the advertising discourses diverted by the Ads-bashers Society (Casseurs de pub) in a persuasion-oriented move. Before tackling the various discursive strategies being carried out (in their icono-graphical, logico-linguistic, rhetorico-semantic, textual, inter-discursive and rhetorical aspects), we define the communication contract as well as the two-fold argumentative aim of these political and media discourses.
En un enfoque semio discursivo, el artículo analiza los discursos publicitarios desviados por la asociación de Destructores de publicidad con fines persuasivos. Antes de examinar las diferentes estrategias discursivas puestas en acción (a los diferentes niveles iconográficos, lógico-linguístico, retórico-sémantico, textual, interdiscursivo y retórico), el artículo define el contrato de comunicación y la doble visión argumentativa de esos discursos político-médiaticos.
Dans une approche sémio-discursive, l'article analyse les discours publicitaires détournés par l'association Casseurs de pub à des fins persuasives. Avant d'examiner les différentes stratégies discursives mises en œuvre (aux niveaux icono-graphique, logico-linguistique, rhétorico-sémantique, textuel, interdiscursif et rhétorique), l'article définit le contrat de communication et la double visée argumentative de ces discours politico-médiatiques.
Fichier principal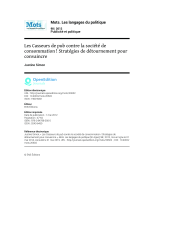 Casseurs-de-Pub-SIMON-mots-20602.pdf (1.03 Mo)
Télécharger le fichier
Origin : Publisher files allowed on an open archive