Research report and contract-based research in social sciences in France
El informe de investigación y investigación bajo contrato en el ámbito de las ciencias humanas y sociales en Francia
Le rapport scientifique, un observable de l'institutionnalisation de la recherche contractualisée en sciences humaines et sociales
Research reports may be considered as a good indicator of contract-based research and of the evaluation of social sciences. As a medium of interaction between researchers, institutions and the public sphere, they are the focus of new attention and is part of a new economy of research. This study points out the conditions of diffusion of reports and how they contribute to a knowledge production process which establishes their status and legitimacy.
El informe de investigación constituye un indicador del incremento de la investigación bajo contrato y de la evaluación en el ámbito de las ciencias humanas y sociales. Base para un estrecho diálogo entre el investigador, la institución y el espacio público, es objeto de nuevas consideraciones y participa en una nueva economía, en el sentido etimológico del término, de la investigación. Un estudio de la puesta en circulación de este producto en una comunidad científica en ciencias humanas y sociales muestra de qué modo se integra el informe en el régimen de producción del saber que le otorga estatuto y legitimidad.
Le rapport de recherche constitue un observable de la montée en puissance de la recherche contractualisée et de l'évaluation en sciences humaines et sociales (SHS). Support d'un dialogue étroit entre le chercheur, l'institution et l'espace public, il fait l'objet de nouvelles attentions et participe d'une nouvelle économie, au sens étymologique du terme, de la recherche. Une étude de la mise en circulation de ce produit dans une communauté scientifique en SHS montre à quelles conditions le rapport prend place dans un régime de production du savoir qui lui confère statut et légitimité.
Fichier principal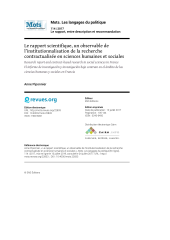 MOTS_114_0135.pdf (165.14 Ko)
Télécharger le fichier
Origin : Publisher files allowed on an open archive