Hemodynamic effet of esmolol ([bêta]1 adrenegic blocade) infusion in septic shock. A rat model of peritonitis.
Effets hémodynamiques de l'esmolol ([bêta]1 bloquant) au cours du choc septique. Modèle de péritonite chez le rat
INTRODUCTION : Le choc septique est une pathologie fréquente et grave secondaire à un orage inflammatoire. L'esmolol Les [bêta]1 bloquants joueraient un rôle clé dans la régulation de la balance inflammatoire et diminueraient dysfonction cardiaque septique. MATERIEL ET METHODE : Nous avons induit des chocs septiques par péritonite chez des rats Wistar. A 4 heures, de l'esmolol ([bêta]1 bloquant de courte durée d'action) ou un placébo (sérum physiologique) est administré. Après 18h à 24h d'évolution les paramètres hémodynamiques sont recueillis grâce à un cathéter de conductance introduit dans le ventricule gauche. Ce dispositif permet de recueillir des paramètres de fonction systolo-diastolique indépendants des conditions de charges. RESULTATS : Les rats traités par esmolol ont une fréquence cardiaque diminuée de 17% (simple dose) et 22% (double dose) par rapport aux rats contrôles (p<0,0001). La lactatémie et la pression artérielle moyenne ne sont pas statistiquement différentes. Le paramètre ESPVR est une mesure de l'inotropisme indépendante des conditions de charge, est significativement améliorée avec un « effet dose » lorsque les rats reçoivent le traitement : +33% (simple dose) et +122% (double dose) versus rats placébos (p=0,003). Le paramètre indépendant des conditions de charges de fonction diastolique que sont EDPVR est significativement amélioré. Le taux de cytokine pro inflammatoire IL1[bêta] majoré diminue avec l'administration d'esmolol : 0,10ng/ml vs 0,22ng/ml chez les animaux placébos (p=0,03)CONCLUSION : Dans notre modèle, l'administration esmolol est bien toléré. Les paramètres hémodynamiques systolo-diastoliques étudié par cathéter de conductance intracardiaque sont améliorés par le traitement. Cet effet est dû à une rééquilibration de la balance inflammatoire par les [bêta]1 bloquants.
Fichier principal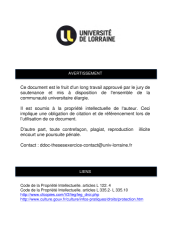 BUMED_T_2012_DELEMAZURE_JULIE.pdf (1.76 Mo)
Télécharger le fichier
Origin : Files produced by the author(s)