Fetomaternal Anti-RH1 alloimmunization prevention. Survey concerning modalities of delivery, administration and traçability of anti-RH1 immunoglubulins in pharmacy, in hospital and in professions, in Lorraine.
Prévention de l'allo-immunisation foeto-maternelle anti-RH1. Enquête concernant les modalités de délivrance, d'administration et de traçabilité des immunoglobulines anti-RH1 en officine, à l'hôpital ainsi qu'au niveau des professions libérales, en Lorraine.
L'allo-immunisation foeto-maternelle est une situation obstétricale relativement rare mais reste cependant à haut risque pour le foetus et le nouveau-né. En effet, même si des progrès considérables ont été réalisés depuis le début du XXème siècle au sujet de la compréhension de la physiopathologie, de la prise encharge de la femme allo-immunisée, de la thérapeutique foetale et néonatale ainsi qu'au sujet de la prévention de cette pathologie, l'anémie hémolytique foetale et l'hyperbilirubinémie du nouveau-né peuvent toujours provoquer des séquelles neurologiques graves, voire un décès.En 2006, l'instauration d'une prophylaxie systématique à la 28ème semaine d'aménorrhée, consistant en une injection d'immunoglobuline anti-RH1 chez toutes les femmes rhésus D négatif, a permis de réduire considérablement ces risques.Ces immunoglobulines anti-RH1 étant d'origine sanguine humaine, la traçabilité de ces médicaments dérivés du sang est cruciale, permettant de suivre ce médicament, de sa fabrication jusqu'à son administration aux patientes.Etant donné que ces immunoglobulines anti-RH1 sont utilisées à l'hôpital mais aussi disponibles en ville, il semblait intéressant de savoir si cette traçabilité était respectée de la même façon par tous les professionnels de santé et quelles étaient les informations données aux patientes par rapport à cette traçabilité. Pour cela, plusieurs enquêtes ont été menées auprès des différentes professions exerçant autour de ces immunoglobulines anti-RH1.Aujourd'hui, pour pallier le manque de source de plasma humain, la recherche se tourne vers la substitution de ces immunoglobulines polyclonales anti-RH1 d'origine humaine par des anticorps monoclonaux humains anti-D.
Fichier principal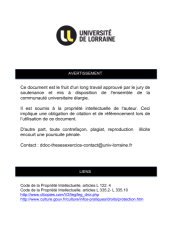 BUPHA_T_2013_SCLAPARI_STEPHANIE.pdf (15.88 Mo)
Télécharger le fichier
Origin : Files produced by the author(s)