Evaluation of the somatic assessments made during the first methadone prescription at the "centre méthadone" of Nancy in 2009.
Evaluation des bilans somatiques effectués lors de la primo-prescription de Méthadone au centre Méthadone de Nancy en 2009
Autour des bilans somatiques effectués lors de la primo-prescription de méthadone au CSST de Nancy en 2009, ce travail se propose d'analyser l'ensemble des données recueillies, d'en déterminer la pertinence et d'évaluer les risques liés à la prescription de méthadone. On retrouve de nombreuses raisons, notamment infectieuses, d'instaurer une prise en charge somatique du patient toxicomane, conformément aux données de la littérature. L'instauration d'un bilan de santé systématique pour tous les patients toxicomanes est un point important dans un centre de soins spécialisés aux toxicomanes. Nous proposons un support de travailspécifique à ce bilan de santé. Grâce à notre travail, nous pouvons dire que l'examen avant la primo-prescription de méthadone doit être exhaustif. Nous proposons un support détaillé pouvant être utilisé pour les bilans somatiques à venir. Une consultation cardiologique est nécessaire pour dépister les patients à risque de torsades de pointe et faire un bilan en cas d'antécédents de pratique d'injection intra-veineuse. L'importance et le risque d'aggravation des lésions dentaires imposent un bilan dentaire avant l'instauration du traitement. La mise enplace d'une deuxième consultation après l'instauration du traitement est importante. Notre étude confirme l'efficacité de la politique de réduction des risques. La prévalence du VIH est nulle, celle du VHC faible. Nos résultats sont encourageants envers le maintien de cette politique. Nous proposons de faire des travaux pouvant exploiter les nouveaux supports de travail. Cette évaluation pourrait se concentrer sur les points faisant défaut à notre étude.
Fichier principal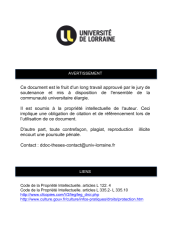 SCDMED_T_2011_JACQUES_MARIE_JULIE.pdf (954.24 Ko)
Télécharger le fichier
Origin : Files produced by the author(s)