Avascular osteonecrosis of the femoral head in 5 HIV patients: a role of protease inhibitors?
Ostéonécroses aseptiques de la tête fémorale chez 5 patients HIV+ : rôle des antiprotéases?
Nous rapportons 5 observations nancéiennes concernant des patients HIV+ souffrant d'ostéonécroses des têtes fémorales (ONATF). Dans une première partie, un rappel bibliographique fait le point sur les conceptions nosologiques et thérapeutiques actuelles concernant l'ONATF, les manifestations rhumatologiques compliquant l'évolution de l'infection par le VIH et les modalitésde prise en charge des patients HIV+. Les observations sont rapportées en colligeant les données démographiques, cliniques, virologiques, biologiques et radiologiques (IRM notamment). Les différents traitements (notamment les inhibiteurs de protéases) sont analysés afin de prendre en compte une éventuelle imputabilité. Nous suggérons que la présence de facteurs confondants doiveêtre prise en compte, et plus particulièrement les dyslipidémies, une corticothérapie, et un éventuel éthylisme (volontiers compulsif). Il apparaît ainsi que ces facteurs, tout comme l'infection HIV ellemême, prennent une part active dans la genèse de ces ONATF, bien plus que les anti-rétroviraux.On observe par ailleurs que les données démographiques (âge, sexe) sont superposables à celles des populations témoins. Par ailleurs, une fois constituées, le traitement et le pronostic de ces ONATF ne se distinguent en rien des formes classiques.
Fichier principal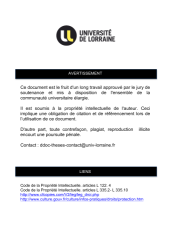 SCDMED_T_2001_BOUDIAF_LABORDE_FYRIEL.pdf (17.02 Mo)
Télécharger le fichier
Origin : Files produced by the author(s)