Infectious risk management of related totally implantable venous access ports : can we improve the management of infectious complications?
Gestion du risque infectieux lié aux chambres à cathéter implantables : peut-on améliorer la prise en charge des complications infectieuses ?
La sécurité des soins est une préoccupation internationale et s'intègre dans un dispositif national deplus en plus exigeant. Le signalement des infections associées aux soins (IAS) est obligatoire suivid'une recherche des causes. Des déposes de chambres à cathéter implantables (CCI) ont été signaléesau service d'Hygiène Hospitalière, pour suspicion de complications infectieuses.L'objectif de ce travail était de réaliser une évaluation des pratiques professionnelles liées à la prise encharge diagnostique et thérapeutique des complications infectieuses sur CCI afin d'améliorer leur priseen charge.Deux services ont participé à l'audit clinique. Les patients inclus étaient des patients présentant unesuspicion de complications infectieuses sur CCI entre octobre 2012 et juin 2013 pour le premier tour etentre janvier et avril 2014 pour le second tour. Un référentiel comprenant quatre critères de jugement aété défini grâce aux recommandations nationales et internationales.Cette étude a mis en évidence des écarts de pratiques. Lors du premier tour, trente-cinq dossiers ontété jugés non conformes sur quarante-sept étudiés. Cinquante non-conformités ont été répertoriéesconcernant la prise en charge thérapeutique. Les plus fréquentes étaient : absence de réévaluation del'antibiothérapie (10/50), absence de désescalade de l'antibiothérapie (10/50), absence de la réalisationd'un verrou antibiotique (8/50) et ablation de la CCI jugée comme « réalisée à tort » (6/50). L'absencede recherche de complications était la non-conformité la plus fréquente concernant la prise en chargediagnostique. Une sensibilisation auprès des équipes médicales a été faite en proposant cinq mesurescorrectives. La comparaison des résultats des deux tours n'a pas mis en évidence une améliorationsignificative des pratiques. Sur les vingt dossiers étudiés, cinq présentaient une prise en charge globaleconforme. Vingt non-conformités ont été répertoriées. Les mêmes types de non-conformités ont étéretrouvés.La prise en charge diagnostique et thérapeutique des complications infectieuses reste difficile. Ils'avère nécessaire de mettre en place un protocole validé reprenant la démarche à suivre lors de laprise en charge d'un patient porteur de CCI présentant une suspicion de complication infectieuse.
Fichier principal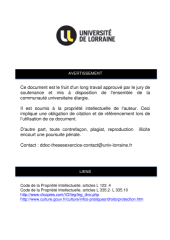 BUPHA_T_2014_FALCON_JULIE.pdf (1.44 Mo)
Télécharger le fichier
Origin : Files produced by the author(s)