Medical audit : are the indications of the antiplatelets agents respected ?
Audit médical : les indications des agents antiplaquettaires sont-elles respectées ?
Les traitements inhibiteurs du fonctionnement plaquettaire ou agents antiplaquettaires (AAP) font partie des médicaments très prescrits en France. Cependant ils ne sont pas dénués d'effets indésirables dont l'hémorragie. Partant de ce constat, le Groupe Lorrain d'Audit Médical a proposé aux médecins généralistes lorrains, par l'intermédiaire d'un audit médical, d'évaluer leur pratique sur le thème : "Les indications des agents antiplaquettaires sont-elles respectées ?". L'audit médical consiste à évaluer ses pratiques professionnelles en lescomparant à des référentiels admis pour améliorer la qualité des soins délivrés au patient. L'interprétation de cette étude est limitée par la faible participation des médecins généralistes lorrains (1.88%) qui ne correspondent pas à un échantillon représentatif de cette population et par l?élaboration du référentiel qui reste global et qui ne reflète pas les nombreuses nuances que comportent les indications des AAP. 85% des patients inclus dans cet audit le sont pour une indication correspondant au référentiel établi. Parmi les 15% inclus pour d'autres situations non conforme à ce référentiel, on retrouve 30% de patients inclus pour une situation où les recommandations sont basées sur une extrapolation des recommandations actuelles (sténose carotide asymptomatique) ; 24% de patients inclus pour une fibrillation atriale associée à des facteurs de risque majorant le risquethrombotique et pour 9% d'entre eux l'indication n'est pas retrouvée dans le dossier médical au moment de l'inclusion. Lors de ce recueil de données, les AAP ont rarement été prescrits dans des situations où il est établi qu'ils n'ont pas de bénéfice pour le patient. Il serait intéressant de réaliser un audit uniquement sur le traitement antithrombotique des patients présentant une fibrillation atriale, ou bien de réaliser un audit permettant d'évaluer si les patients qui ont un bénéfice établi à être traité par AAP le soient bien.
Fichier principal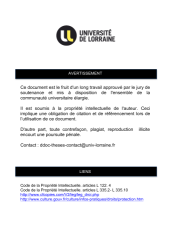 SCDMED_T_2011_GOEURY_JULIE.pdf (1.29 Mo)
Télécharger le fichier
Origin : Files produced by the author(s)