Les courbes ajustées individuelles : une alternative aux courbes standards pour le dépistage échographique des anomalies de croissance : étude rétrospective à la Maternité Régionale Universitaire de Nancy
INTRODUCTION: Prediction fetus suggests that abnormal growth in fetuses is an increasingly common major challenge in antenatal care. How do we set a reliable standard for identification? Jason Gardosi suggested adjusting individual reference curves. Our objective was to compare the standard curves to customised curves as a quality of screening of newborns risking perinatal complications. STUDY DESIGN: We have conducted a retrospective study involving 209 pregnant womenfolders (38-42 SA) at Academic Regional Maternity of Nancyfrom 1stJanuary to 31st December 2013. We have excluded all files in which external conditions may have affected the fetal growth.RESULTS: The customised curves had a better specificity in the short-term perinatal outcome as well as a better positive predictive value. Therefore, the probability of being sick when the fetus has a growth anomaly on its custom curve is much greater than the probability of getting sick when it is off limits to the reference standard curves. However, they don't have the sensitivity and negative predictive value expected. DISCUSSION: Thus, the customised growth curves have their interest in the diagnosisof growth abnormalities. Nevertheless, their interest is less relevant than the standard curves for screening growth abnormalities.
INTRODUCTION: Le dépistage des foetus présentant une anomalie de croissance est un défi majeur pour tous les prestataires des maternités. Comment définir une norme fiable pour les identifier ? Jason Gardosi a suggéré un modèle de courbes ajustées individuelles, construites d'après des paramètres individuels. Notre objectif était de comparer les courbes standards et les courbes ajustées individuelles dans la qualité de dépistage des nouveau-nés à risque de complications périnatales. MÉTHODE: Nous avons mené une étude rétrospective portant sur 209 dossiers d'accouchés à terme (38-42 SA) à la Maternité Régionale Universitaire de Nancy sur la période du 1er janvier au 31 décembre 2013. Nous avons exclus tous les dossiers présentant des pathologies pouvant affecter la croissance foetale. RÉSULTATS: Les courbes individuelles ont une meilleure spécificité dans le pronostic périnatal à court terme ainsi qu'une meilleure valeur prédictive positive. Par conséquent, la probabilité d'être malade lorsque le foetus présente une anomalie de croissance sur sa courbe personnalisée est nettement supérieure à la probabilité d'être malade lorsque ce dernier est hors limite sur les courbes standards de référence. En revanche, elles n'ont pas la sensibilité et la valeur prédictive négative attendues. DISCUSSION: Les courbes de croissance ajustées individuelles ont leur intérêt dans le diagnostic des anomalies de croissance. Néanmoins, leur utilisation ne permet pas un dépistage plus performant des anomalies de croissance par rapport aux courbes standards.
Fichier principal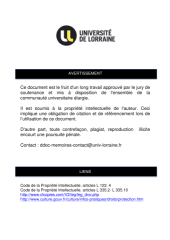 BUMED_MESF_2015_COLIN_CAMILLE.pdf (464.08 Ko)
Télécharger le fichier
Origin : Files produced by the author(s)