How agricultural practices and semi-natural elements density influence plant diversity of permanent grassland in Champagne-Ardenne and Lorraine
De quelle manière les pratiques agricoles et la densité d'infrastructures agroécologiques influencent la diversité végétale des prairies permanentes en Champagne Ardenne et Lorraine ?
For the past 50 years, the transformation of agriculture by increasing productivity has lead to a significant reduction of the area of permanent grassland and semi-natural element. The result is a considerable loss of biodiversity. In this report, we analyze the effect of agricultural practices and density of semi-natural element on plant diversity in two regions which are Champagne-Ardenne and Lorraine. This study has been conducted with a gradient of agricultural practices and density variation in semi-natural element translated through different agricultural operating systems, different plots, and the center and border stations systems. Functional traits and species diversity indices of plants were calculated. In plots where agricultural practices are low, species richness would tend to increase. For plot containing a higher density of semi-natural element, there is a higher diversity of species in the center of the plot than in the edge of the field and a stronger SLA next to the semi-natural element. In the different operating systems, an increase in the intensity of practices causes an increase in plant height, maybe the result of strong growth because of strong competition and fertilization.
Depuis les 50 dernières années, la mutation de l'agriculture par son augmentation de productivité a conduit à réduire considérablement les surfaces de prairies permanentes et les densités d'infrastructures agroécologiques, ceci entrainant une considerable perte de biodiversité. Le présent rapport vise à analyser l'effet des pratiques agricoles et de la densité d'IAE sur la diversité végétale en prairies permanentes de Champagne-Adenne et Lorraine. Cette étude sera menée grâce à un gradient de pratiques agricoles et une variation de densité d'IAE traduit à travers différents systèmes d'exploitation, différentes parcelles, et les stations centre et bordure. Les traits fonctionnels ont étés mesurés et les indices de diversité spécifique des plantes ont étés calculés à partir des relevés floristiques. Au sein des parcelles, lorsque les pratiques agricoles sont plus faibles, la richesse spécifique aurait tendance à augmenter. Pour les parcelles contenant une densité supérieure d'IAE, on constate une diversité spécifique supérieure au centre de la parcelle par rapport à la bordure de la parcelle et un SLA plus fort au bord de parcelle. Dans les systèmes d'exploitation, on constate qu'une augmentation de l'intensité des pratiques agricoles provoque une augmentation de la hauteur des plantes, ceci peut être le résultat d'une forte croissance due à une forte compétition ou fertilisation.
Fichier principal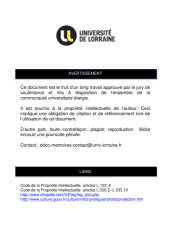 BUS_M_2013_BRESSON_CAROLINE.pdf (1.42 Mo)
Télécharger le fichier
Origin : Files produced by the author(s)