La surveillance des cancers de l'adolescent et du jeune adulte en France
In France, adult cancer registries from the FRANCIM network are used for the surveillance of cancer in adolescents and young adults (AYAs). Since 2011, data on 15-17 year olds have also been recorded by the two French National Childhood Cancer registries. Between 2000 and 2008, 2,418 new cases of cancer in AYAs were recorded. The most frequently diagnosed cancers in AYA were malignant gonadal germ-cell tumors, Hodgkin's lymphoma, melanoma and thyroid carcinoma. Overall age-standardized incidence rates (ASR) were 254.1 per million in 15-24 year olds (sex ratio 1.1). The ASR was stable over time. Between 2000 and 2004, the 5-year overall survival rate for all cancers was 81.8%, with differences observed between genders and age groups: 78.8% and 85.2% for males and females, respectively; 78.5% and 84.3% in 15-19 and 20-24 year olds, respectively. Survival significantly improved over the last 20 years. Studies investigating the management of AYAs with cancer have shown great disparities in patient care and a lack of collaboration between adult oncologists and pediatric oncologists. Consequently, an AYA cancer multidisciplinary working group has been created to improve AYA cancer services and care.
La surveillance des cancers de l'adolescent et du jeune adulte (AJA), âgés de 15 à 24 ans, est assurée par les registres généraux et spécialisés du cancer du réseau Francim et depuis 2011, pour les 15-17 ans, par les deux registres nationaux pédiatriques. Sur la période 2000-2008, avec 2 418 nouveaux cas recensés, les cancers les plus fréquemment observés chez les AJA étaient les tumeurs germinales, les lymphomes de Hodgkin, les mélanomes et les cancers de la thyroïde. L'incidence annuelle standardisée sur la population mondiale était de 254,1 par million, avec un sex-ratio H/F de 1,1. L'incidence est restée stable au cours du temps. La survie globale à cinq ans durant la période 2000-2004 était de 81,8%, avec des différences selon le sexe (78,8% chez les hommes et 85,2% chez les femmes) et selon l'âge (78,5% chez les 15-19 ans et 84,3% chez les 20-24 ans). Elle a régulièrement augmenté au cours des 20 dernières années. Les études sur la prise en charge des AJA révèlent une grande hétérogénéité et un manque de collaboration entre oncologues d'adultes et oncopédiatres, justifiant la création d'un groupe de travail multidisciplinaire consacré aux cancers de cette tranche d'âge.
Fichier principal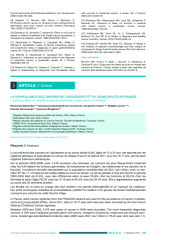 2013_43-44-45_6.pdf (848.92 Ko)
Télécharger le fichier
Origin : Publisher files allowed on an open archive