Les outils numériques : un levier fédérateur pour les acteurs du football de demain : le cas de la Ligue Lorraine de Football
France is one of the countries where the most popular sport is soccer. He unleashed passions, emerged debates and brought the people out. Everything is developed to receive information from professional football. In a context where digital tools are in constant expansion, the authorities which carry an interest for the professional football appropriated what facilitates them this data transmission towards the main interested; everything is handled there, in particular what takes place on and outside the ground. The latter making discusses because he depreciates this sport. Consequently, the amateur soccer, carrier of values and rich and plentiful news, should be shown. To know more about the type of tool to be proposed to the actors of the amateur soccer, Ligue Lorraine de Football is an opportunity to ask to clubs and to concerned people for what they interested them, in a context of territorial reorganization which was imposed by the government.
La France est un des pays où le sport roi demeure le football. Il déchaine les passions, fait émerger des débats et rassemble le peuple. Tout est développé pour recevoir les informations issues du football professionnel. Dans un contexte où les outils numériques sont en constante expansion, les instances qui portent un intérêt pour le football professionnel se sont approprié ce qui leur facilite cette transmission de données vers les principaux intéressé(e)s ; tout y est traité, notamment ce qui se passe sur et en dehors du terrain. Ce dernier faisant débat car il nuit à l'image de ce sport. Par conséquent, le football amateur, porteur de valeurs et d'actualités riches et abondantes, se doit d'être montré. Pour en savoir plus sur le type d'outil à proposer aux acteurs du football amateur, la Ligue Lorraine de Football est une opportunité pour demander aux clubs et aux personnes concernées ce qu'ils leur intéressaient, dans un contexte de réorganisation territoriale imposé par le gouvernement.
Fichier principal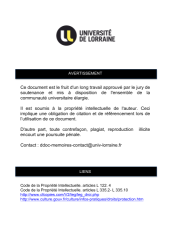 BUS_M_2016_MARCHAL_ROMAIN.pdf (2.47 Mo)
Télécharger le fichier
Origin : Files produced by the author(s)