Comment évaluer le projet « Tremplin Sport » à destination d'un public en situation de précarité et d'exclusion sociale ?
Physical activity is recognized by the State as a social intervention tool. As such, many national plans with sanitary, social or educational purpose place physical activity at the heart of their priorities due to its assigned virtues. In front of an increase of economic and social inequalities, the department of Meurthe-et-Moselle is an experimental area through the implementation of « Le plan de lutte contre la pauvreté et pour l'inclusion sociale ». Little used in the field of social inclusion, physical activity allows to diversify the social intervention supports. That is why a group of work constituted of different institutional representatives and ground operators' works for more than a year on the development of a social inclusion project by physical activity. The aim is to work indirectly on the health and social and/or professional inclusion of these people, and so to contribute to an equal access of sports activities and hobbies for all. Thanks to numerous researches on the benefits of physical activity on both physical and psychological health, social inclusion's plan by physical activity can exist and be financially and institutionally supported. The dissertation's subject is incorporated within the framework of this context. The context in which this project evolves as well as the observations that led to its conception will be first discussed. Then, the conception's method of implementation and analysis of the process evaluation will be described. The profile and the situation in which the concerned population by the action evolves will also be presented. Lastly, the result of the conformity's and efficiency's analysis of the different process will be exposed and recommendations will be ventured.
L'activité physique est reconnue par l'Etat comme un outil d'intervention sociale. A ce titre, de nombreux plans nationaux à visée sanitaire, sociale ou éducative placent aujourd'hui l'activité physique au coeur de leurs priorités en raison des vertus qui lui sont attribuées. Face à un accroissement des inégalités économiques et sociales, le département de Meurthe-et-Moselle est un site expérimental dans le cadre de la mise en oeuvre du Plan de lutte contre la pauvreté et pour l'inclusion sociale. Peu utilisé dans le champ de l'insertion sociale, l'activité physique permet de diversifier les supports d'intervention sociale. C'est pourquoi, un groupe de travail constitué des différents représentants institutionnels et des opérateurs de terrain travaille depuis plus d'un an à l'élaboration d'un projet d'insertion sociale par l'activité physique. L'objectif est de travailler, d'une manière détournée, sur la santé et l'insertion sociale et/ou professionnelle de ces personnes et ainsi de contribuer à l'égal accès de tous aux pratiques sportives et de loisirs. Grâce aux nombreuses recherches sur les bienfaits de l'activité physique sur la santé autant sur le plan physique que psychique, des dispositifs d'insertion par le sport peuvent exister et être soutenus financièrement et institutionnellement. C'est dans ce contexte que s'inscrit le sujet de ce mémoire. Le contexte dans lequel évolue le projet ainsi que les constats qui ont amené à sa conception seront tout d'abord abordés. Puis la méthode d'élaboration, de mise en oeuvre et d'analyse de l'évaluation de processus sera décrite. Le profil et la situation dans laquelle évolue la population concernée par l'action seront également présentés. Enfin, les résultats de l'analyse de la conformité et de l'efficacité des différents processus seront exposés et des recommandations seront émises.
Fichier principal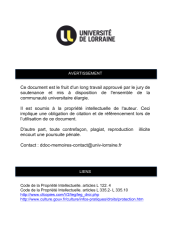 BUS_M_2016_MULLER_MANON.pdf (3.62 Mo)
Télécharger le fichier
Origin : Files produced by the author(s)