La performance motrice au regard de la mesure de l'autodétermination : approche du Karaté chez des patients atteints d'épilepsie
The general goal of this studie will contribute to the understanding of the emergence of motor performance in an activity such as handikarate by offering an approach and an exploration of the self-determination of people with disabilities. So we will seek to establish if, on the one hand belonging to a group and if, on the other hand, caregivers and karate teacher, can promote the development of these self-determined motivation. To this end, we propose a model that results from self-determination theory, which states that autonomy support from the karate teacher and caregiver as well as membership in a group would promote self-determined motivation of the person towards the handikarate. This self-determined motivation at this practice would in turn promote motor performance of this one. Data was collected from nine epilepsy patients in all inpatient within the MAS of Dommartin-lès- Toul and practiticing handikarate for a little over 6 months, using direct observations and interviews semi-structured. The variables studied in the context of this study are motivation and motor performance. The results support our model, in fact, all patients have a self-determined motivation that allowed the expression of their motor skills in action, observed especially at the Junior Karate Championships in France.
L'objectif général de ce mémoire, sera de contribuer à la compréhension de l'émergence des performances motrices au sein d'une activité telle que le karaté en proposant une approche et une exploration de l'autodétermination de personnes en situation de handicap. On cherchera donc à vérifier si, d'une part l'appartenance à un groupe et si, d'autre part, le personnel soignant et le professeur de karaté, peuvent favoriser le développement de ces motivations autodéterminées. A cette fin, nous proposons un modèle qui découle de la théorie de l'autodétermination et qui stipule que le soutien à l'autonomie de la part du professeur de karaté et du personnel soignant ainsi que l'appartenance à un groupe favoriserait la motivation autodéterminée de la personne vis-à-vis du karaté. Cette motivation autodéterminée face à cette pratique viendrait, en retour, favoriser les performances motrices de celui-ci. Les données ont été recueillies auprès de neuf patients épileptiques tous en hospitalisation complète au sein de la MAS de Dommartin-lès-Toul et pratiquant du karaté depuis un peu plus d'un an, à l'aide d'observations directes et d'entretiens semi-directif. Les variables qualitatives étudiées dans le cadre de la présente étude sont la motivation et la performance motrice. Les résultats obtenus soutiennent notre modèle, en effet, les patients présentent tous une motivation autodéterminée qui a permis l'expression de leur motricité en action, observée notamment lors des championnats de France de karaté junior.
Fichier principal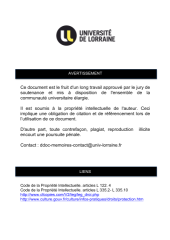 BUS_M_2016_TOUAHRI_NORDINE.pdf (1.93 Mo)
Télécharger le fichier
Origin : Files produced by the author(s)