Recherche et étude des territoires de chasse de colonies de Grand rhinolophe (Rhinolophus ferrumequinum, Schreber 1774) et de Murin à oreilles échancrées (Myotis emarginatus, Geoffroy 1806) dans le nord du Pas-de-Calais
Greater Horseshoe bats and Geoffroy's bats suffered by a very hard pressures, in the last decade. In order to improve knowledges on bats for the Action Plan of Chiroptera in the Nord-Pas de Calais, a radiotracking was realized on these two species. The radiotracking permitted to discover a new roost of Greater Horseshoe bats. This is the second roost known this day in the region. This great discover is an advance for the protection's actions for this species. This study is lightening about the homeranges and foraging habitats of the individuals followed . Moreover it's highlight the use of the roost environment. Complementary studies of radiotracking and diet will help us to know more about threats and stakes which impact the species. Now, it's necessary to improve knowledge about this roost. It would permit to save the population of Rhinolophus ferrumequinum by appropriated action of protection.
Le Grand Rhinolophe et le Murin à oreilles échancrées ont souffert d'un fort déclin dans le siècle dernier. Dans le cadre de la mise en oeuvre du Plan Régional de Restauration Chiroptère, un suivi télémétrique a été réalisé sur ces deux espèces. Le radiopistage a permis de trouver une nouvelle colonie de Grand Rhinolophe, la seconde connue à ce jour dans le Nord-Pas de Calais. Cette découverte est non négligeable pour la protection de l'espèce dans la région. L'étude a permis d'identifier les domaines vitaux et les terrains de chasse des individus suivis, et de mettre en évidence l'utilisation des habitats de la colonie. Cependant des études complémentaires des terrains de chasse ou du régime alimentaire de la colonie pourront être réalisées afin de mieux appréhender les menaces et enjeux qui pèsent sur l'espèce. Le but est maintenant d'améliorer les connaissances sur cette colonie afin d'assurer la pérennité de la population par le biais de moyens de protection adaptés.
Fichier principal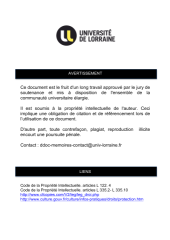 BUS_M_2015_PRIOUL_YOANN.pdf (2.97 Mo)
Télécharger le fichier
Origin : Files produced by the author(s)