Article 12 du projet de loi de santé : étude de faisabilité sur le territoire franc-comtois du Pays de Vesoul Val de Saône
With the new French health law, the French Regional Health Agencies (ARS) will have the mission to contribute to the creation of new health territorial professionnal communities – facilities designed to improve the organisation of territorial primary care and health paths. In this context, the ARS of Franche-Comté wished to study their implementation feasibility on a formerly diagnosed territory. A problematic was defined through an internal observation. Interviews of ARS professionnals and members of the CRSA, completed by diagnostic data, enabled to make an analysis of the facilities and to define actions to anticipate their implementation. The 2 action lines selected by the ARS stress the need for a progressive implementation of changes towards health professionnals, in order to build a health project focused on the territorial needs. The new law must take into consideration the importance of change management and provide staketholders with the appropriate means to contribute to its success.
Par la nouvelle loi de santé, les ARS auront pour mission de contribuer à la constitution des nouvelles communautés professionnelles territoriales de santé, dispositifs destinés à améliorer l'organisation territoriale des soins primaires et des parcours de santé. Dans ce contexte, l'ARS de Franche Comté a souhaité étudier la faisabilité de leur mise en oeuvre sur un territoire préalablement diagnostiqué. Une problématique a été définie à travers une observation interne. La conduite d'entretiens auprès de professionnels de l'ARS, de membres de la CRSA complétée par des données de diagnostics ont permis de réaliser une analyse des dispositifs et de définir des actions pour anticiper leur mise en place. Les 2 axes d'actions retenus par l'ARS soulignent la nécessité d'une construction progressive du changement auprès des professionnels de santé pour construire un projet de santé centré sur les besoins du territoire. La nouvelle loi doit prendre en compte l'importance de la conduite du changement et donner les moyens appropriés aux acteurs pour concourir à sa réussite.
Fichier principal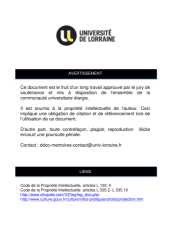 BUMED_MSPM_2015_BOUILLER_CHRISTINE.pdf (1.2 Mo)
Télécharger le fichier
Origin : Files produced by the author(s)