Réponse de la photosynthèse du hêtre (Fagus sylvatica) à la sécheresse et à la défoliation
Increases in the frequency and duration of droughts, is one of the consequences of the climate change. Drought affected forest production and it is the basis of many forest dieback reported last decade. Forest tress can die of both hydraulic failure and carbon starvation. The main objective of this work was to study the impact of drought and defoliation on the carbon balance of young beech. We measured net assimilation at tree scale and at leaf scale. We used MAESTRA model to simulate light absorption for tress. We found lower carbon balance in trees under intense drought and for those who were defoliated than control tress. Water deficit decreased photosynthetic activity of leaves as well as their area. Implicitly, it has a negative impact of the light absorption of trees. Leaf photosynthesis in defoliated trees was higher than control trees. But their low carbon balance is explained by their low leaf area.
Les sécheresses marquées et prolongées sont l'une des conséquences des changements climatiques qui impactent la production forestière, en témoignent les cas de dépérissement de forêt enregistrés au cours de cette dernière décennie. En cas de sécheresse, les arbres meurent soit à cause d'un dysfonctionnement hydraulique ou à cause d'une « faim » de carbone. L'objectif de ce travail était d'étudier l'impact d'une sécheresse et d'une défoliation sur le bilan carboné du hêtre et de comparer ce bilan à des arbres témoins. Des mesures de photosynthèses nettes à l'échelle de l'arbre et à l'échelle de la feuille ont été faites, le modèle MAESTRA a été utilisé pour simuler le rayonnement absorbé par arbre. Comparativement aux arbres témoins, des bilans carbonés plus faibles ont été trouvés pour les arbres soumis à une sécheresse intense et pour ceux qui ont été defeuillés. Le déficit hydrique a diminué l'activité photosynthétique des feuilles aussi bien que leur surface. Ce qui a impacté négativement l'interception de la lumière à l'échelle de l'arbre. Le bilan de carbone net faible enregistré pour les arbres défeuillé était plutôt dû à une faible interception de la lumière du fait de leur surface foliaire faible.
Fichier principal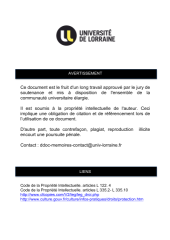 BUS_M_2015_ALCIUS_STEEVENSEN.pdf (1.3 Mo)
Télécharger le fichier
Origin : Files produced by the author(s)