Réussir sa transition en agriculture de conservation des sols
In order to cope with the social demand and latest legal changes, the agricultural sector in France has to face numerous major challenges: reduction of 50% for all chemical inputs, to reach an certain energy effectiveness by reducing all fossil energy by 30%, finally, preserve soils' fertility and biodiversity. Conservation Agriculture (CA) applies to meet the challenges. Indeed, by preserving the ecosystem, crops are being offered numerous of its the ecological functionalities. Nevertheless, the transition to Conservation Agriculture is far from being easy. Investigations had been led on members of the VivesciAgrosol, the pioneer of Conservation Agriculture. The goal was to assess on agricultural practices and to offer decision making rules in order to help other producers to realize their own transition to Conservation Agriculture. Ground cover, extended and diversified crop rotation and minimum tillage are crucial for maintaining good sanitary conditions for the crops (weeds, pests and diseases), as well as landscape ecology (agro-ecological infrastructures). Finally, the implementation of leguminous plants within these new agro-systems appears essential to cope with a sensibly different nitrogen management.
Face à la demande sociétale et juridique, l'agriculture française doit faire face à de nombreux enjeux majeurs : la réduction des intrants de synthèse de 50%, atteindre une efficacité énergétique en réduisant de 30% la consommation d'énergie fossile et préserver la biodiversité et la fertilité des sols. L'agriculture de conservation (AC) est candidate à relever ce défi puisqu'en préservant les fonctionnalités de l'écosystème, de nombreux services écosystémiques s'offrent à la plante cultivée. Cependant la période de transition vers une agriculture de conservation n'est pas simple. Un travail d'enquête a été réalisé au sein des membres du groupe VivesciAgrosol, précurseur de l'agriculture de conservation afin de recenser les pratiques agricoles et ainsi proposer des règles de décision à suivre afin que d'autres agriculteurs puissent négocier au mieux leur transition en conservation des sols. Il apparaît alors que les trois piliers de l'agriculture de conservation (couverture maximale du sol, rotation longue et diversifié et travail minimum du sol) sont essentiels pour le maintient de l'état sanitaire des cultures (adventices, ravageurs et maladies) mais aussi l'écologie du paysage (infrastructures agro-écologiques). Enfin la dynamique de l'azote diffère en système de travail du sol réduit, l'introduction de légumineuse dans ces systèmes semble primordiale.
Fichier principal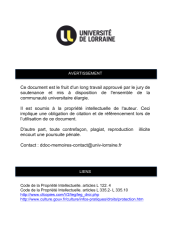 BUS_M_2015_PESCHAUD_MATHIEU.pdf (1.41 Mo)
Télécharger le fichier
Origin : Files produced by the author(s)