L'observation & l'analyse de 2 dispositifs de pilotage localisé de la relation Formation - Emploi
This thesis proposes to share with the reader a double reflection on the difficulty of implementing a new form of conduct regional public policy through the prism of employment matching training. Centralized public action by the state until the 1990s, vocational training is now the subject of a set of influences between actors who are not all stakeholders and that redefine the relationship of training to use: if it was previously declined to professionalize the individual, it has now become a regional tool for securing his career: the adaptability of the offer of vocational training to the labor market will depend employability of the individual.
Ce mémoire propose de partager avec le lecteur une double réflexion sur la difficulté de mettre en oeuvre une nouvelle forme de conduite de politique publique régionale à travers le prisme de l'adéquation formation emploi. Action publique centralisée par l'Etat jusque dans les années 1990, la formation professionnelle fait aujourd'hui l'objet d'un jeu d'influences entre des acteurs qui ne sont pas tous parties prenantes et qui redéfinissent la relation de la formation à l'emploi : si elle était auparavant déclinée pour professionnaliser l'individu, elle est devenue aujourd'hui un outil régional de sécurisation de son parcours professionnel : de l'adaptabilité de l'offre de formation professionnelle au marché du travail va dépendre l'employabilité de l'individu.
Fichier principal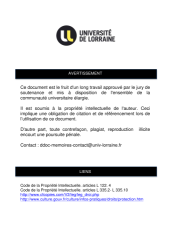 BUS_M_2015_PIERROT_ISABELLE.pdf (1.42 Mo)
Télécharger le fichier
Origin : Files produced by the author(s)