Prise en charge orthophonique de l'enfant d'âge préscolaire présentant un bégaiement associé à un retard de parole : intérêts et bénéfices des stimulations du rythme : étude de deux cas
Stuttering is a speaking and communication disorder that starts during the early childhood,at the so-called"language explosion" stage. This disorder could disappear in 90% of the cases by early-onset treatment. Parental control over the child's environment is central to the efficacy of speech therapy.In roughly 30% of cases, stuttering children display an associated delayed speech characterized by phonological alterations. In this case, words deformation could render the children's pronunciation totally unintelligible. Nowadays, speech-language therapy for the delayed speech focuses on the formal aspect of the language. This approach however, is not recommended for stuttering cure. Hence, the cure of two dysfunctions proves to be a problem. This work focuses on the correlation between speech delay and stuttering and suggests a rehabilitative approach aiming to cure both disorders in the respect of their specific recommendations. A theoretical section shows that both pathologies affect speech prosody and the rhythmic capacity of the children might be affected. Therefore, we have chosen to propose an approach that could treat both disorders at the same time. A method section establishes a group of activities based on rhythm stimulation applied to twochildren (4 and 5 years old) affected by stuttering with an associated speech delay, over a period of three months.Finally, theast part analyses in a qualitative fashion, the evolution of both rhythmic performances, and children's speech quality through the different sessions. In conclusion, this work highlights the relevance of a rhythm-based therapeutic approachfor children exhibiting stuttering and speech delay.
Le bégaiement est un trouble de la parole et de la communication, s'installant dans la petite enfance au moment de « l'explosion » du langage. Traité précocement, ce trouble disparaît dans plus de 90% des cas chez le jeune enfant. L'intervention orthophonique consiste en une guidance parentale, visant à modifier les conditions environnementales qui risquent de fixer ce trouble. Dans environ 30% des cas, les enfants qui bégaient présentent un retard de parole associé, caractérisé par des altérations phonologiques transformant les mots ; la parole de l'enfant peut même être rendue inintelligible. La prise en charge orthophonique du retard de parole est axée sur l'aspect formel du langage, ce qui n'est pas préconisé pour le traitement du bégaiement. La prise en charge des deux troubles associés pose alors problème. Ce mémoire s'intéresse à la corrélation existant entre le retard de parole et le bégaiement, et propose une approche rééducative qui respecterait leurs caractéristiques et recommandations spécifiques. Une partie théorique montre que ces deux troubles affectent la prosodie de la parole, et que les capacités rythmiques de ces enfants seraient perturbées. Nous avons donc choisi de proposer une approche s'appuyant sur le rythme pour traiter les deux troubles à la fois. Une partie méthodologique élabore un ensemble d'activités de stimulation du rythme, proposées à deux enfants de 4 et 5 ans présentant un bégaiement associé à un retard de parole, sur une période de 3 mois. Enfin, une dernière partie analyse l'évolution des performances rythmiques, et la qualité de la parole de ces enfants lors des séances. Cette étude de cas à valeur qualitative.En conclusion, il semblerait qu'une approche par le rythme soit pertinente pour la prise en charge d'enfants présentant à la fois un bégaiement et un retard de parole.
Fichier principal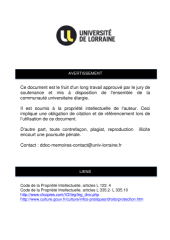 BUMED_MORT_2015_VILLEGAS_MAUD.pdf (398.16 Ko)
Télécharger le fichier
Origin : Files produced by the author(s)