Appréhension de la synesthésie dans l'interaction verbale chez des personnes présentant un syndrome d'Asperger, une précocité intellectuelle ou des troubles dyslexiques
Synesthesia is a cognitive non-pathological way of functioning, which consists in handling an information, resulting from the reality and presented in a sensory modality, by associating it, involuntarily, with a specific perception which consistent over time. Synesthesia would have a genetic origin, which would generate an atypical brain connectivity as the following neurodevelopmental disorders : Asperger syndrome, Intellectual Precocity and dyslexia. However, we wonder if synesthesia is more common in patients with Asperger syndrome, than those which have an Intellectual Precocity or a dyslexia. This hypothesis is a pretext to explore synesthesia and to know if therapeutics strategies are possible in speech therapy. Our study leans on semi-structured interviews, recorded with a dictaphone, which were qualitatively and quantitatively analyzed. Qualitative results show that Asperger people would be more inclined to synesthesia. Nevertheless, statistical analyses don't confirm this observation. But, further work which would use an objective test with a larger group of patients, could confirm this difference. Finally, a reflection on possible therapeutic strategies would be interesting. Then, speech therapeutic researches could participate to advance synesthesia researches in neurology.
La synesthésie est un mode de fonctionnement cognitif, non pathologique, qui consiste à traiter une information, provenant du réel et présentée dans une modalité sensorielle, en l'associant involontairement à une perception spécifique, consistante dans le temps. La synesthésie aurait une origine génétique, qui engendrerait une connectivité cérébrale atypique, comme les troubles neurodéveloppementaux suivants : le syndrome d'Asperger, la précocité intellectuelle et les troublesdyslexiques. Toutefois, nous nous demandons si la synesthésie serait plus fréquente chez les personnes Asperger que chez les personnes intellectuellement précoces ou dyslexiques. Cette hypothèse de travail est un prétexte pour explorer la synesthésie et savoir si des stratégiesthérapeutiques sont possibles en orthophonie. Notre étude s'appuie sur des entretiens semi-directifs, enregistrés au dictaphone, qui ont été analysés qualitativement et quantitativement. Les résultats qualitatifs révèlent que les personnes Asperger seraient plus enclins à la synesthésie. Néanmoins, les analyses statistiques ne corroborent pas cette observation. Des travaux complémentaires, qui utiliseraient un test objectif sur un groupe de personnes plus large, pourraient confirmer cette différence. Enfin, une réflexion sur d'éventuelles stratégies thérapeutiques serait intéressante. Puis, la recherche en orthophonie pourrait contribuer à l'avancée des recherches sur la synesthésie en neurologie.
Fichier principal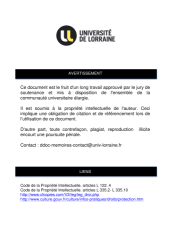 BUMED_MORT_2015_BELAROUCI_KAINA.pdf (805.5 Ko)
Télécharger le fichier
Origin : Files produced by the author(s)