Effets des contraintes spatio-temporelles sur les coordinations musculaires du membre supérieur lors du smash au badminton
Abstract: The purpose of this study was to identify muscular coordination of the upper limb during a badminton smash, then measure how these coordination were affected by spatiotemporal constraints, for regional and national/international players. Ten badminton players, regional level (16 years; 1.78±5 cm; 65.2± 5.8 kg) and national level (18.4±1.5 years; 1.73±5 cm; 64.2±5.6 kg) participated in this study which involved making 20 smashes over different conditions modulated by distance of the strike zone and by shuttlecock trajectory. The results show a similitude of muscular synergy number (i.e. 4) for all the subjects with sturdiness of muscle implication across conditions, but with a shift of temporal activation of synergies, proportionally to flight time reduction. However, interpersonal synergies composition variability has been shown, highlighting the role of sensory feedbacks in the modulation of muscular coordination during a learned gesture. Finally, no significant difference in relation with expertise level has been showed, suggesting the similarity of upper limb motor program, even in presence of strong temporal and spatial constraints.
Résumé: Le but de cette étude était d'identifier les coordinations musculaires du membre supérieur lors du smash au badminton, puis de mesurer comment ces coordinations étaient affectées par les contraintes spatiotemporelles, pour des joueurs de niveau régional, et national/international. Dix badistes, de niveau régional (16 ans; 1.78±5 cm; 65.2± 5.8 kg) et national (18.4±1.5 ans; 1.73±5 cm; 64.2±5.6 kg) ont participé à l'étude qui consistait à la réalisation de séries de 20 smashes lors de conditions modulées par la distance de la zone de frappe et par trajectoire du volant. Les résultats ont montré une similitude du nombre de synergies musculaires (i.e. 4) pour tous les sujets, avec une robustesse de l'implication de chaque muscle à travers les conditions, mais avec un décalage de l'activation temporelle des synergies proportionnellement à la réduction du temps de vol. Cependant, une variabilité interpersonnelle de la composition des synergies a été montrée, mettant en évidence le rôle des feedbacks sensoriels dans la modulation des coordinations musculaires lors d'un geste appris. Enfin, aucune différence significative en relation au niveau d'expertise n'a été mise en avant, suggérant la similarité des programmes moteurs du membre supérieur, même en présence de fortes contraintes temporelles et spatiales.
Fichier principal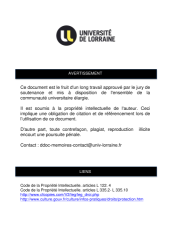 BUS_M_2015_MOUROT_STEPHANE.pdf (1.03 Mo)
Télécharger le fichier
Origin : Files produced by the author(s)