Séchage des bois ronds à basse température
This stage took place in the LERMaB and among the CoolWood project that aims to develop an innovative process of log preservation at low temperatures. Yet, there are only few studies on drying wood at such temperatures. This internship aimed to characterize the migration of vapor water among the bark of three trees : spruce (Picea abies), oak (Quercus ) and beech (Fagus sylvatica), and also to study the drying of little spruce logs with or without bark at temperatures around 10°C. A 1m3 cooling chamber has been used, a humidifier built during this study within, for the drying experiments. The sorption isotherms of each species' bark are relatively close. The diffusion coefficients of water vapor in the bark are in the order of 10-13m²/s for spruce, and 10-11m²/s for oak. The reduced diffusivities of bark are in order of 10-8 for spruce and for 10-6 oak. Those coefficients have not been estimated for beech bark. The drying of spruce logs is possible yet slow; it can be accelerated if the bark is removed. The extrapolation of the results to simulate drying of entire logs could be done with the TransPore code.
Ce stage a été réalisé au sein du LERMaB et s'inscrit dans le projet CoolWood qui vise à développer un procédé innovant de préservation des grumes à basses température. Or, il existe très peu d'études sur le séchage du bois à de telles températures. Le but de ce stage était la caractérisation de la migration de la vapeur d'eau au travers de l'écorce de trois essences : l'épicéa (Picea abies), le chêne (Quercus) et le hêtre (Fagus sylvatica), ainsi que l'étude de la cinétique de séchage de petits billons d'épicéa avec ou sans écorce à des températures autour de 10°C. Une enceinte réfrigérante de 1m3 pourvue d'un humidificateur construit durant ce stage a été utilisée pour les expériences de séchage. Les isothermes de sorption de l'écorce de chacune des trois essences testées sont relativement similaires. Les coefficients de diffusion de la vapeur d'eau dans l'écorce sont d'un ordre de grandeur de 10-13m²/s pour l'épicéa et de 10-11m²/s pour le chêne. L'ordre de grandeur des diffusivités réduites sont de 10-8 pour l'épicéa et de 10-6 pour le chêne. Ces coefficients n'ont pas été estimés pour l'écorce de hêtre. Le séchage des billons d'épicéa est possible, quoique lent; il peut être accéléré en écorçant l'échantillon. L'extrapolation des résultats afin de simuler le séchage de grumes entières pourra se faire grâce au code TransPore.
Fichier principal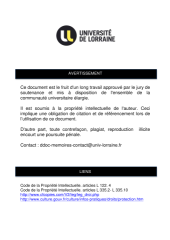 BUS_M_2014_GUERINEAU_BAPTISTE.pdf (2.91 Mo)
Télécharger le fichier
Origin : Files produced by the author(s)