Dynamique de la Tulipe sauvage (Tulipa sylvestris L. subsp. sylvestris) en fonction des pratiques agricoles, sur la commune de Die (Drôme)
The wild Tulip (Tulipa sylvestris L. ssp. sylvestris) is a messicole species, protected at the national level. In the department of Drôme (26), on the municipality of Die, about 900 000 individuals were inventoried by the CBNA in 2009. In front of a number of increasing dispensation request for destruction of this protected species, a management plan arranged by the various actors of the territory was set up with the aim of protecting it. The annual followup of the populations is made to understand the link between the dynamics of the wild Tulip and the local agricultural practices. Three working hypotheses were formulated and predict : a favorable effect of the organic farming, a long-term negative impact of a spring plowing, and a significant importance of the crop on the expression of the wild Tulip. The follow-up was realized in period of blooming, according to the national protocol established by the CBNA. As the outcome of the analysis of the results, several elements were able to be put forward : no detectable difference between the organic farming and the conventional farming, no shortterm negative impact of a spring plowing, and the type of crop is actually an explanatory important factor of the expression of the species. However, to protect the wild Tulipe, the follow-up of populations and the agricultural practices has to continue at least the time of a complete cultural rotation to acquire the step backwards necessary for the understanding of this symbolic patrimonial species of Diois.
La Tulipe sauvage (Tulipa sylvestris L. ssp. sylvestris) est une espèce messicole, protégée à l'échelle nationale. Dans le département de la Drôme (26), sur la commune de Die, près de 900 000 individus ont été inventoriés par le CBNA en 2009. Face à un nombre croissant de demande de dérogation pour destruction de cette espèce protégée, un plan de gestion concerté par les différents acteurs du territoire a été mis en place dans le but de la préserver. Un suivi annuel des populations est effectué afin de comprendre le lien entre la dynamique de la Tulipe sauvage et les pratiques agricoles locales. Trois hypothèses de travail ont été formulées et prédisent : un effet favorable de l'agriculture biologique, un impact négatif à long terme d'un labour de printemps, et une importance significative du type de culture en place sur l'expression des Tulipes sauvages. Le suivi a été réalisé en période de floraison, selon le protocole national instauré par le CBNA. A l'issue de l'analyse des résultats du suivi, plusieurs éléments ont pu être mis en avant : pas de différence détectable entre l'agriculture biologique et l'agriculture conventionnelle, pas d'impact négatif à court terme d'un labour de printemps, et le type de culture en place semble être un facteur important, explicatif de la variabilité d'abondance de l'espèce. Toutefois, en vue de préserver au mieux la Tulipe sauvage, le suivi des populations et des pratiques agricoles doit se poursuivre au minimum le temps d'une rotation culturale complète afin d'acquérir le recul nécessaire à la compréhension de cette espèce patrimoniale emblématique du Diois.
Fichier principal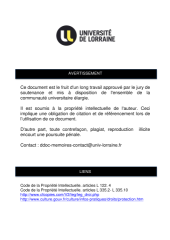 BUS_M_2014_LEBIHAN_CAMILLE.pdf (2.86 Mo)
Télécharger le fichier
Origin : Files produced by the author(s)