Projet Forrisk : Etude des attaques de fomes sur le douglas dans le Tarn
Fomes (Heterobasidion annosum, sl) causes severe damage to forests in many countries. It has long known the severe losses that may result in spruce stands. Foresters are afraid of its current expansion and the damage it can cause to trees that have supplanted as Douglas-fir. The project FORRISK was an opportunity to clarify its impact on this species. The aim of this study is to improve the diagnosis of the presence of the fungus in the event of dieback. For this, the visible signs of dieback at the crown condition were studied and put in links with the presence of discoloration of wood at the stem or damage on roots. Following a stumping and shelling, we tried to understand the dynamics of colonization of the root and wood by the fungus and the damage it causes to the root system. The correlation between health status and presence of crown discoloration at the stem has not been established. The presence of the fungus in the timber does not disturb to the physiological state of the tree. Next, we saw that fomes is ubiquitous because 60% of the strains studied showed alteration tasks. While in Douglas, this fungus causes yet little economic impact on the degradation of wood, it is essential to better understand its effect on the root system. On the 11 strains studied, 71% roots observed were infected by fomes. However, woody roots of a tree have three main roles: the mechanical ground anchor, storage of reserves and the conduction of water containing minerals. Damages due to Heterobasidion likely have a negative impact on these three functions which causing a general weakening of the tree.
Le fomes (Heterobasidion annosum, Fr.) cause de graves dégâts dans les forêts de nombreux pays. On connaît depuis longtemps les pertes sévères qu'il peut occasionner dans les peuplements d'épicéas. Les forestiers s'inquiètent de son extension actuelle et des dommages qu'il peut provoquer sur les essences qui ont supplanté l'épicéa comme le douglas. Le projet FORRISK a été une opportunité pour préciser son impact sur cette essence. L'objectif de cette étude est d'améliorer le diagnostic de présence du champignon en cas de dépérissement. Pour cela, les signes de dépérissements visibles au niveau de l'état des houppiers ont été étudiés et mis en liens avec la présence de décolorations du bois au niveau des souches ou de détériorations éventuelle des racines. Suite à un dessouchage et un décorticage nous avons tenté de comprendre la dynamique de colonisation du bois racinaire et caulinaire par le champignon et les dégâts qu'il provoque sur le système racinaire. La corrélation entre état sanitaire des houppiers et présence de décolorations au niveau des souches n'a pas été établit. La présence du champignon dans le bois ne perturbe à priori pas l'état physiologique de l'arbre. Nous avons vu par la suite que le fomes est omniprésent puisque 60 % de souches étudiées présentaient des tâches d'altération. Même si chez le douglas, ce champignon provoque pour l'instant un faible impact économique au niveau la dégradation du bois, il est primordial de mieux appréhender son action sur le système racinaire. Sur les 11 souches étudiées 71% des pivots observés était infectés par le fomes. Or, les racines ligneuses d'un arbre ont trois rôles principaux : l'ancrage mécanique au sol, le stockage de réserves et la conduction de l'eau chargée d'éléments minéraux. Les dégâts dus à Heterobasidion ont vraisemblablement des conséquences négatives sur ces trois fonctions entraînant alors un affaiblissement général de l'arbre.
Fichier principal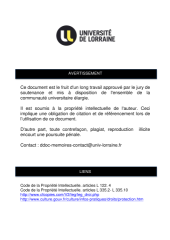 BUS_M_2014_LAGET_LUCILE.pdf (2.85 Mo)
Télécharger le fichier
Origin : Files produced by the author(s)