Recycling of WEEE ...... we do not stop progress!
Le recyclage des déchets d'équipements électriques et électroniques… On n'arrête pas le progrès !
High Tech products, smartphones, LCD screens, hybrid vehicles, CD-DVDs, rechargeable batteries, etc. which make our day-to-day life, require rare metals whose production is controlled by a limited number of countries, mainly China, Russia, the Democratic Republic of Congo and Brazil. The specific supply risks linked to the oligopoly or quasi-monopoly situations of these strategic metals have prompted the European Union to look for alternative supply routes, the first being the recycling of spent electronic and electrical equipment. Among these, indium and lanthanum are elements that have many high tech applications. Indium is a rare metal associated with the mining of zinc and tin, largely dominated by China. Lanthanum, like all rare earths, does not exist individually in deposits, but is also associated with other metals. The recycling of indium and lanthanum contained in end-of-life equipment therefore appears to be the only alternative to addressing the risks of scarcity. And, beyond the economic and strategic aspects, the recycling of these metals can be an interesting alternative to reduce the large-scale exploitation of mineral deposits containing them and thus to preserve the environment. In this context we propose a process for lanthanum electroplating and indium extraction and electrodeposition in weakly hygroscopic ionic liquids, 1-octyl-1-methyl-pyrrolidinium bis (trifluoromethylsulfonyl) imide and 1-butyl-1-ethylpiperidinium bis (trifluoromethylsulfonyl ) imide.
Les produits High Tech, smartphones, écrans LCD, véhicules hybrides, CD-DVDs, piles rechargeables, etc. qui font notre quotidien, nécessitent des métaux parfois rares dont la production est contrôlée par un nombre restreint de pays, principalement la Chine, la Russie, la République Démocratique du Congo et le Brésil. Les risques spécifiques d'approvisionnement liés aux situations d'oligopole ou de quasi-monopole dont ces métaux stratégiques font l'objet, ont poussé l'Union Européenne à chercher d'autres voies d'approvisionnement, la première étant le recyclage d'équipements électroniques et électriques usagés. Parmi ceux-ci, l'indium et le lanthane sont des éléments qui présentent de nombreuses applications High Tech. L'indium est un métal rare associé à l'exploitation des minerais de zinc et d'étain, largement dominée par la Chine. Le lanthane, comme l'ensemble des terres rares, n'existe pas individuellement dans des gisements, mais est lui aussi associé á d'autres métaux. Le recyclage de l'indium et du lanthane contenus dans les équipements en fin de vie semble donc la seule alternative pour remédier à des risques de pénurie. Et, au-delà des aspects économique et stratégique, le recyclage de ces métaux peut constituer une alternative intéressante permettant de diminuer l'exploitation à grande échelle des gisements de minerais les contenant et ainsi, de préserver l'environnement. Dans ce contexte nous proposons un procédé d'électrodéposition du lanthane et d'extraction-électrodéposition de l'indium dans des liquides ioniques faiblement hygroscopiques, le bis(trifluorométhylsulfonyl)imide de 1-octyl-1-méthyl-pyrrolidinium et le bis(trifluorométhylsulfonyl)imide de 1-butyl-1-éthylpipéridinium.
Fichier principal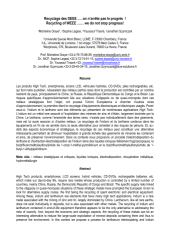 pre-print.pdf (1.04 Mo)
Télécharger le fichier
Origin : Files produced by the author(s)