La recherche et l'optimisation d'outillage de brasage destiné a la fabrication d'échangeurs de chaleur en inconel et super alliage
This internship carried out from 15 March to 15 September 2013 and held between the research and development department of the company Fives Cryogenics and technology hall of the European School of Engineering in Materials Engineering "EEIGM" was subject to: Optimization of soldering tool for the manufacture of heat exchangers and super alloy inconel. For optimizing reliability and manufacturing of plate heat exchangers and brazed inconel waves or super alloy, a solution of insulation to limit the operating temperature of the compression elements is necessary, therefore, my first task, process modeling brazing in vacuum furnace has enabled me to have the temperature profiles in the heart of a brazing cycle commonly used in the manufacture of this type of device, then I validated my digital model with experience exchanger prototype. My second task, the integration of the insulation solution clamping tools in the numerical model that I made in two steps allowed me to have satisfying results, which motivated me to do an experiment to see the results of this solution on reality. Finally, I made three standard digital models for the company, which will provide a gains in terms of time and cost for future projects.
Ce stage effectué du 15 mars au 15 septembre 2013 et qui s'est déroulé entre le service recherche et développement de l'entreprise Fives Cryogénie et la halle technique de l'école européenne d'ingénieurs en génie des matériaux « EEIGM » avait pour sujet : Optimisation d'outillage de brasage destiné à la fabrication d'échangeurs de chaleur en inconel et super alliage. Pour optimiser et fiabiliser la fabrication d'échangeurs à plaques et ondes brasées en inconel ou en super alliage, une solution d'isolation pour limiter la température de fonctionnement des éléments de compression s'impose, donc, ma première tâche, la modélisation du procédé brasage dans le four sous vide m'a permis d'avoir les profils de température au cour d'un cycle de brasage communément utilisé pour la fabrication de ce type d'appareil, ensuite, j'ai validé mon modèle numérique avec une expérience sur un échangeur prototype. Ma seconde tâche, l'intégration de la solution d'isolation des outils de serrage dans le modèle numérique que j'ai fait en deux étapes m'a permis d'avoir des résultats satisfaisant, ce qui ma motivé de faire une expérience pour voir les résultats de cette solution sur la réalité. Enfin, j'ai fait trois modèles numériques standards pour l'entreprise, ce qui présentera un gain en termes de délais et de coûts pour les projets futurs.
Fichier principal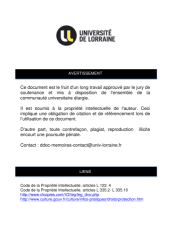 BUS_M_2013_NAIT-LAZIZ_HAMZA.pdf (1.96 Mo)
Télécharger le fichier
Origin : Files produced by the author(s)