Identification et traitement des interactions dans les tâches motrices en badminton en EPS
It is important for teachers to take into account the characteristics of their students. It is a foundation on which to rely for his teaching propose to transform his students and encourage driving acquisitions in order to advance. In view of the interactions that exist in the field of education and in particular that of physical education and sports, what types of situations offer for what student characteristics ? This thesis is an opportunity for us to identify and select more precisely the types of favorable acquisitions drive according to the ratio of dependence / independence of motor tasks increases with its environment in a complex class system. This study focuses on a class of fourth in badminton activity in an establishment of the Toul sector will lead us to propose educational principles.
Il est important pour un enseignant de prendre en compte les caractéristiques de ses élèves. C'est une base sur laquelle il doit s'appuyer pour proposer son enseignement afin de transformer ses élèves et favoriser les acquisitions motrices dans le but de les faire progresser. Au regard des interactions qu'il existe dans le domaine de l'enseignement et notamment celui de l'EPS, quels types de situations proposer pour quelles caractéristiques des élèves ? Ce mémoire est l'occasion pour nous d'identifier et de sélectionner de manière plus précise les types de tâches motrices favorables aux acquisitions motrices en fonction du rapport de dépendance/indépendance de l'élève avec son environnement dans un système classe complexe. Cette étude qui porte sur une classe de 4e dans l'activité badminton dans un établissement du secteur du toulois nous amènera à proposer des principes pédagogiques.
Fichier principal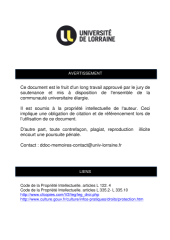 BUS_M_2013_BEDEL_AURORE.pdf (426.89 Ko)
Télécharger le fichier
Origin : Files produced by the author(s)