Anciens équipements sportifs et nouvelles formes de pratique : quelles adaptations pour la ville de Nancy ?
This dissertation first deals with how today's sport facilities and particularly gymnasiums have become decrepit, which leads to a discrepancy between what they offer and the requirements of athletes nowadays. The evolution of sport and the bad management of building and renovation plans are the main reason for this situation. This theoretical work will be illustrated by an analysis of the state of the city of Nancy's facilities. The second part of the dissertation shows how to adapt an obsolete gymnasium in Nancy to the new requirement of its users. Henri Bazin is a gymnasium located in the Rives-de- Meurthe neighbourhood.
Ce mémoire nous explique, dans une première partie, comment on est arrivé, aujourd'hui, à avoir des équipements sportifs couverts, et notamment des gymnases, vieillissants et en complet décalage avec les attentes des sportifs d'aujourd'hui. Évolution du sport et mauvaise gestion des constructions et rénovations sont les principales raisons de cette situation. Ce travail théorique sera illustré par une analyse de la situation des installations de la ville de Nancy. La deuxième partie du mémoire nous propose l'adaptation d'un gymnase nancéien désuet aux nouvelles exigences des pratiquants. Le gymnase choisit pour cette partie est le gymnase Henri Bazin situé dans le quartier des Rives de Meurthe.
Fichier principal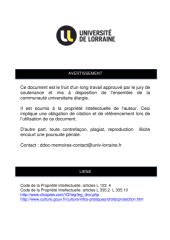 BUS_M_2012_GUILLOTIN_XAVIER.pdf (4 Mo)
Télécharger le fichier
Origin : Files produced by the author(s)