En quoi la Ligue Lorraine de Football permet la valorisation des actions citoyennes ?
As an association of public utility, Lorraine Football League's main mission is to promote civic vision of football and to recall its educational value. One of these goals is to use football as a lever pedagogical and educational and encourage Lorraine clubs to organize a real life project beyond the sporting aspect. Through the actions implemented, the LLF strives to exploit the educational value of sport to feed projects of general interest and the needs of each club. To know what Lorraine Football League allows the valuation of corporate citizenship, this study focuses on the emergence of the shares through a diagnostic study including documentary and interviews. The analysis of results provides an objective view of the importance of these actions and can offer strategic approaches to their sustainability and their evolution.
Etant une association reconnue d?utilité publique (RUP), la Ligue Lorraine de Football a pour mission principale de promouvoir une vision citoyenne du football et d'en rappeler ses vertus éducatives. L'un de ces objectifs est d'utiliser le football comme levier pédagogique et éducatif et d'encourager les clubs lorrains à structurer un véritable projet de vie, au-delà de l'aspect sportif. A travers les actions mises en oeuvre, la LLF s'évertue à exploiter les qualités éducatives de ce sport pour nourrir des projets d'intérêt général et répondant aux besoins de chaque club. Afin de savoir en quoi la Ligue Lorraine de Football permet la valorisation des actions citoyennes, cette étude s'intéresse à l?émergence de ces actions par le biais d'un diagnostic comprenant étude documentaire et entretiens. L'analyse des résultats offre une vision objective de l'intérêt de ces actions et permet de proposer des pistes stratégiques pour leur pérennisation et leur évolution.
Fichier principal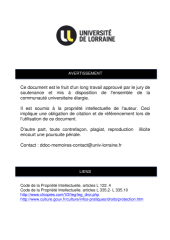 BUS_M_2012_LOEUNG_JEREMY.pdf (3.01 Mo)
Télécharger le fichier
Origin : Files produced by the author(s)