Virus entériques et transmission hydrique : méthodes analytiques, efficacité des filières d'épuration et contamination sur des sites littoraux avec coquillages
Enteric viruses are major gastroenteritis and hepatitis agents, quantity and duration of excretion by infected people is very important and inducing waste water contamination mainly during winter. A quantitative survey of Norovirus, Astrovirus, Rotavirus, Adenovirus 40-41, Sapovirus, Enterovirus, Aïchi virus, hepatitis A and E virus (and Escherichia coli for comparison) was performed between January and April in eleven wastewater treatment plants in Normandy (France) with five different disinfection types. Moreover, the presence of these viruses in river water, sediments and shellfish was evaluated in three coastal sites between wastewater plant facility (WWTP) and beach. An average of 2 to 2,5 log reduction is performed by activated sludge secondary treatment. Membrane bioreactor systems perform 4 to 6 log reduction. Tertiary lagoons and sand filters performed 1,5 to 3 log reduction (e.g. 3,5 to 5 log with activated sludge upstream). Reed bed performed 1 log reduction. Sites contamination seems coming mainly from urban diffuse pollution more than from WWTP effluents. Sediments and shellfish could play a role of "viral pollution recorder". In oysters, several weeks look necessary for virus depuration. Furthermore, shellfish from class B oyster breading area (with E.coli criteria) are no contaminated with enteric viruses, in accordance with their sanitary classification. In Granville class D area, shellfish watching highlights Rotavirus epidemic confirmed by some hospital precise statistics but undervalued by medical "Sentinelles" monitoring network. Hepatitis A virus was absent from our data, acting the very low endemicity in Normandy.
Les virus entériques, responsables de gastroentérites aigües (GEA) et d'hépatites, sont excrétés en grande quantité et durant de longues périodes par les malades, entraînant une forte contamination des eaux usées urbaines notamment en période hivernale. Entre janvier et avril l'efficacité de cinq procédés de désinfection a été mesurée par biologie moléculaire vis-à-vis de Norovirus, Astrovirus, Rotavirus, Adénovirus 40-41, Sapovirus, Entérovirus, Aïchi virus, des virus de l'hépatite A et E et d'Escherichia coli pour comparaison, dans onze stations d'épuration (STEP) du littoral Normand. D'autre part, la contamination virale de l'eau, des sédiments et des coquillages a été observée à l'échelle de trois sites littoraux, de la station d'épuration à la côte. Le traitement biologique par « boues activées » à aération prolongée en amont des traitements de désinfection permet un abattement moyen de 2 à 2,5 U.log sur les virus. La désinfection par filtration membranaire permet un abattement moyen de 4,5 U.log. Les lagunes de finition et les filtres à sable abattent 1,5 à 3 U.log, soit 3,5 à 5 U.log avec un traitement secondaire en amont. Le filtre à roseaux abat 1 U.log. La contamination des sites semble plus souvent provenir de pollutions diffuses urbaines plutôt que des STEP. Les sédiments peuvent jouer un rôle d' « enregistreur » de pollution au même titre que les coquillages en conservant la trace de contaminations antérieures. Dans les huîtres, le temps nécessaire à l'élimination des virus est de plusieurs semaines. Les coquillages provenant de sites classés B sur critère E.coli ne sont pas ou très peu contaminés par les virus en accord avec le classement sanitaire. Sur le site de Granville, classé D, le rôle de sentinelle des bivalves filtreurs a permis de mettre en évidence une épidémie à Rotavirus confirmée par les résultats d'analyse des hôpitaux mais sous-estimée par le réseau Sentinelles. A noter que le virus de l'hépatite A n'a pas été retrouvé lors des analyses, signe d'une endémicité très faible dans la région.
Fichier principal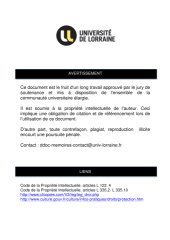 BUS_M_2012_COLLET_NAIS.pdf (4.11 Mo)
Télécharger le fichier
Origin : Files produced by the author(s)