Modélisation de la décomposition de produits résiduaires organiques dans le sol
The organic matter is an important component in the soil that provides fertility. Understanding the behavior and fate of this organic matter with all its elements is important to manage fertilization and organic inputs, mainly nitrogen inputs. Among the ways to predict the behavior of organic matter the mineralization kinetics of C and N. In this course, the kinetics of mineralization of carbon and nitrogen of 485 organic wastes were used to parameterize the STICS model (simulator of agronomic scenarios. Brisson et al., 1998). The procedure consisted first in a simulation of the kinetics of mineralization of each organic waste with the STICS-residue using the kinetics experimentally determined, the simulation showed a discrepancy between the simulated and experimental data, at the same time, the parameters of the model were calculated. Then a parameterization of the model by linking model parameters with the properties of the organic wastes was performed for the whole data base, but the results were not satisfactory because of the heterogeneity of the data, to resolve this issue, a sample was taken from the data and the parametrization was performed on it. The parameterization of the model was also made on groups of organic wastes made on the basis of their nature and / or statistical characteristics (ascending hierarchical classification). The parametrization using the balanced sample, or the groups of organic wastes allowed to have predictive equations for STICS parameters taking into account the properties of the organic wastes, but the quality of prediction is unsatisfactory, so it is possible to propose another type of classification of organic wastes or seek other types of relationships (other than linear relationships STICS-parameters-organic wastes properties).
La matière organique est un composé principal dans le sol qui assure sa fertilité. La compréhension du comportement et du devenir de cette matière organique avec tous ses éléments est importante pour pouvoir gérer la fertilisation et les apports, principalement les apports azotés. Parmi les moyens permettant de deviner le comportement de la matière organique dans le sol, on a le suivi des cinétiques de minéralisation du carbone et de l'azote. Dans le cadre du stage, des cinétiques de minéralisation du carbone et de l'azote de 485 produits résiduaires organiques ont été utilisées pour paramétrer le modèle STICS (le simulateur de scénarios agronomiques. Brisson et al., 1998). La procédure a consisté premièrement en une simulation des cinétiques de minéralisation de chaque PRO avec le module STICS-Résidu en utilisant les cinétiques déterminées expérimentalement, cette simulation a montré une conformité entre les données simulées et les données expérimentales ; en même temps, les paramètres du modèle ont été déterminés au niveau de cette étape. Ensuite un paramétrage du modèle par mise en relation des paramètres du modèle avec les propriétés des PRO a été essayé sur la totalité de la base, mais les résultats n'étaient pas satisfaisants vue l'hétérogénéité de la base, ce qui a conduit à l'équilibrer et en tirer un échantillon sur lequel a été effectué le paramétrage. Le paramétrage du modèle a aussi été fait sur des groupes de PRO en tenant compte de leurs natures et/ou de caractéristiques statistiques (classification ascendante hiérarchique). Le paramétrage pour l'échantillon équilibré, et pour les groupes définis a permis d'avoir des équations prédictives des paramètres de STICS tenant compte des propriétés des PRO, mais la qualité de prédiction des paramètres par ces équations s'avère non satisfaisante ; il est donc possible de proposer un autre type de classification des PRO ou de chercher des relations d'autres types (autre que les relations linéaires paramètre de STICS-caractéristique de PRO).
Fichier principal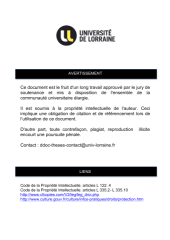 SCDSCI_M_2011_ASKRI_AMIRA.pdf (3.11 Mo)
Télécharger le fichier
Origin : Files produced by the author(s)