L'événementiel en santé : un outil de communication en promotion de la santé : mise en place de la 3ème édition de la Fraîch'attitude de Lille
About 32 % of French population today is affected by overweight. This evolution is due to several health determiners: an increase of food intake rich in fats and in sugars accompanied with a decline of physical exercise. Overweight has numerous consequences for health: cardiovascular diseases, diabetes, high blood pressure? For these reasons, it is important to prevent it from the youngest age. The government addressed this problem by launching in 2001 the first Programme National de Nutrition Santé (plan to improve public health by acting on one of its major determiners: nutrition). This plan was renewed in 2006. Interfel (Interprofession of fruit and vegetable) inaugurated in 2005 the first "Fraîch'attitude" week, centred on the promotion of fruit and vegetable and the practice of physical activity with children and general public to answer this problem. This report presents the implementation of the 2011 "Fraîch'attitude" week in Lille City.
Le surpoids touche aujourd'hui près de 32% de la population française. Cette évolution est due à plusieurs déterminants de santé : une plus grande consommation d'aliments très caloriques riches en graisses et en sucres accompagnée d'une baisse de la pratique d'exercice physique. Le surpoids a de nombreuses conséquences pour la santé : maladies cardio-vasculaires, diabète, hypertension. Il est donc important de le prévenir et ce dès le plus jeune âge. L'État s'est saisi de cette problématique et a lancé en 2001 le premier Programme National de Nutrition (plan de santé publique visant à améliorer l'état de santé de la population en agissant sur l'un de ses déterminants majeurs : la nutrition). Ce plan a été renouvelé en 2006. Interfel (Interprofession des fruits et légumes) a inauguré en 2005, la première semaine Fraîch'attitude, axée sur la promotion des fruits et légumes et la pratique de l'activité physique auprès des enfants et du grand public afin de répondre à cette problématique. Ce mémoire vous propose la présentation de la mise en place de la semaine Fraîch'attitude 2011 dans la ville de Lille.
Fichier principal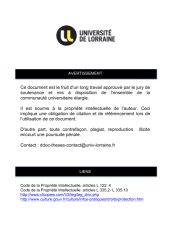 SCDMED_MSPM_2011_GAIMON_ADELINE.pdf (2.38 Mo)
Télécharger le fichier
Origin : Files produced by the author(s)