Antagonisme entre les espèces du complexe Scedosporium apiospermum et Pseudomonas aeruginosa chez les patients atteints de mucoviscidose
In the context of cystic fibrosis, Staphylococcus aureus and Pseudomonas aeruginosa are responsible for many infection of respiratory tract. Eighty percent patients are colonized/infected by P. aeruginosa. One the other hand, the genus Scedosporium, is the second filamentous fungal agent colonizing and infecting the lung of cystic fibrosis patient'. Among patients with cystic fibrosis an antagonism have been described inter P.aeruginosa and the species complex Scedosporium, which Pseudallescheria boydii.This antagonism had been found previously in the GEIHP laboratory. The aim of this work has been to validate this antagonism and to identify the antimicrobial molecules. Antagonism between these two strains could not be confirmed, but it have been demonstrated in this work that the broth of P.boydii15155 (IHEM) has activity anti Staphylococcus aureus and epidermidis. An extraction has been realized in the culture broth, and the extracts cyclohexan, dichloromethane and acetate d'ethyl have been showed an antibacterial activity. The secreted metabolite(s) by P.boydii have been purified and characterized by HPLC method coupled to ground. The HPLC/MS/UV data ofcyclohexan to extract show similarities with the analytical data of the literature the dehydroxybisdethiobis(methyl thio)gliotoxin, active against Staphylococcus aureus. Analysis of other samples suggests the presence of chemical structures original from P. boydii.
Dans le contexte de la mucoviscidose, Staphylococcus aureus et Pseudomonas aeruginosa sont responsables de nombreuses infections bactériennes de l?arbre respiratoire. Quatre vingt pourcent des patients sont colonisés/infectés par P. aeruginosa. D'autre part, le genre Scedosporium est le deuxième agent fongique filamenteux responsable des colonisations/infections pulmonaires dans la mucoviscidose. Chez les patients atteints de mucoviscidose, un antagonisme a été démontré entre P. aeruginosa et les espèces du complexe Scedosporium, dont Pseudallescheria boydii. Des expériences préliminaires réalisées par le GEIHP ont permis d'observer in vitro cet antagonisme. Le but de cette étude était de valider cet antagonisme et d'identifier les métabolites antimicrobiens. L'antagonisme entre ces deux souches n'a pas pu être confirmé, mais le surnageant de culture de P.boydii 15 155 (IHEM) a montré une activité antibactérienne dirigé contre Staphylococcus aureus et S. epidermidis. Une extraction a été réalisé sur le surnageant de culture, et les extraits cyclohexane, dichlorométhane et acétate d'éthyle ont montré une activité antibactérienne. Le ou les métabolites sécrétés par P.boydii ont été purifiés et caractérisé par HPLC couplée à la masse. Les données d'HPLC/MS/UV de l'extrait cyclohexane montrent des similitudes avec les données analytiques de la littérature de la déhydroxybisdethiobis(méthylthio)gliotoxine, active contre les Staphylococcus aureus. Les analyses des autres extraits suggèrent la présence de structures chimiques originales issues de P. boydii.
Fichier principal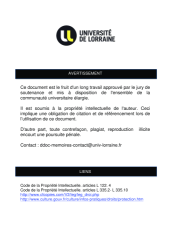 BUS_M_2014_STAERCK_CINDY.pdf (2.02 Mo)
Télécharger le fichier
Origin : Files produced by the author(s)