Animation environnement dans le cadre de la construction LGV Est Européenne – 2ème phase
To answer the legislation, ETF, figure at the world level in the railway domain, has begun the realization of its Balance Carbon on the phase production of its project « LGV EE Est 2nd phase », who represents 106 km of new line high speed train (TGV) from Baudrecourt to Vendenheim. This report presents the method, as well as the results of the phase of collecting data, which will be used to the calculation of gas emissions with greenhouse effect of this project. The end will be to set up an action plan to a reduction of emissions issues. The environmental politics of ETF asserts the will to join the conservation of the environment, what passes by the management and the follow-up of the pollutions. So as to root for these comments, the method of pollutions management will take place in this memoire.
Afin de répondre à la législation, ETF, acteur de premier plan à l'échelle mondiale dans le domaine ferroviaire, a entreprit la réalisation de son Bilan Carbone sur la phase production de son projet « LGV EE Est 2ème phase », qui représente 106 km de ligne nouvelle à grande vitesse reliant Baudrecourt à Vendenheim. Ce mémoire présente la démarche, ainsi que les résultats de la phase de collecte de données, qui serviront au calcul des émissions de gaz à effet de serre de ce projet. La finalité sera de mettre en place un plan d'actions visant la réduction de ces émissions. La politique environnementale d'ETF affirme leur volonté de s'inscrire dans la préservation de l'environnement, ce qui passe par la gestion et le suivi des pollutions. Afin d'appuyer ces propos, la démarche de gestion et de suivi des pollutions mise en place lors de ce projet sera présentée dans ce mémoire.
Fichier principal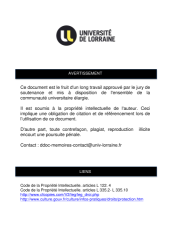 BUS_M_2014_KLEIN_MORGANE.pdf (2.65 Mo)
Télécharger le fichier
Origin : Files produced by the author(s)