Pronostic et stratégie de maintenance sur l'électronique de puissance
This report presents the work carried out from March to July 2014 in the company Delipapier, located in Frouard, France. Delipapier produce toilet paper, paper towels and handkerchiefs to all sanitary and hygienic purposes. Their production combines mechanical and electronic equipments. The maintenance department has been recently facing a significant failure rate on a specific electronic power board used to control the motor shaft. They have set up a study in order to reach a normal failure rate, similar to the rest of electronic equipments. They want to develop a method of prognosis to supervise power boards. To reach this target, the current situation was formalized and analyzed. Critical components were identified and a prototype of prognosis program has been made to more accurately understand the wear of these components. In parallel, the study has shown the main cause of premature wear of power cards: heat. Changes in the cooling system control cabinets were performed; air conditioners have replaced the fans that equipped cabinets. Finally, a maintenance strategy has been developed to improve the maintenance of power electronic equipments and serves as a starting point for the development of a predictive maintenance method.
Ce rapport présente le travail effectué de mars à juillet 2014 dans la société Delipapier, situé à Frouard. Delipapier produit du papier-toilette, de l'essuie-tout et des mouchoirs à usages sanitaires et hygiéniques. Leurs outils de production allient mécanique et électronique et le département maintenance est confronté depuis quelques années à un taux de pannes important sur un modèle de carte électronique de puissance servant au control d'axe moteur. Ils ont besoin qu'une étude soit menée afin de revenir à un taux de pannes normal, semblable au reste des équipements électroniques. Ils souhaitent qu'une méthode de pronostic soit développé afin d'assurer la surveillance de cartes de puissance. Afin de répondre à ce besoin, la situation existante a été formalisée et analysée. Des composants critiques ont pu être identifié et un prototype d'un programme de pronostic a été réalisé afin de tenter d'appréhender le plus justement l'usure de ces composants. En parallèle, l'étude a permis de comprendre les causes principale d'usure prématurée des cartes de puissance : la chaleur. Des modifications du système de refroidissement des armoires électriques ont été réalisées ; des climatiseurs ont remplacés les ventilateurs qui équipaient les armoires. Pour finir, une stratégie de maintenance a été développée pour améliorer la maintenance de l'électronique de puissance et servir de point de départ à la mise en place d'une maintenance prévisionnelle.
Fichier principal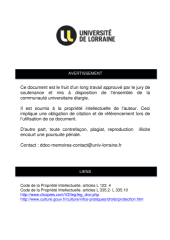 BUS_M_2014_THIBAUD_GUILLAUME.pdf (2.31 Mo)
Télécharger le fichier
Origin : Files produced by the author(s)