L'embarras, émotion ambivalente et complexe : une présentation théorique
This paper provides a review of the literature on embarrassment, a both complex and social emotion which has been little documented as compared with other self-conscious emotions such as shame or guilt. The first aim of the current note is to define the main characteristics of embarrassment, then to propose a classification of the different models which examines its causes. The second objective is to map and to question the social effects of both experienced and expressed embarrassment, as well as some more straightforward effects (motivational and physiological) on the embarrassed individual. Several ambivalent points are highlighted in order to suggest some perspectives arising from cognitive and social psychology for future research.
Cet article propose une synthèse de la littérature sur l'embarras, émotion complexe et sociale relativement sous-documentée par rapport à d'autres émotions réflexives comme la honte ou la culpabilité. Le premier objectif de cette note théorique consiste, après avoir défini les principales caractéristiques de l'embarras, à proposer une classification des modèles explicatifs de ses causes. Le second objectif vise à recenser et à questionner les effets sociaux de l'embarras éprouvé et exprimé, ainsi que les effets plus directs (motivationnels et physiologiques) sur l'individu embarrassé lui-même. Différents points d'ambivalence sont ainsi mis en lumière, et ce de façon à proposer des perspectives de recherche issues de la psychologie cognitive et sociale.
Fichier principal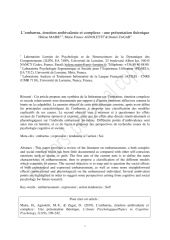 Maire, H., Agnoletti, M.-F., & Zagar, D. (2019). L'embarras, émotion ambivalente et complexe. Une présentation théorique.pdf (1.74 Mo)
Télécharger le fichier
Origin : Files produced by the author(s)