Effets de l'étayage du locuteur natif en situation de communication exolingue sur l'apprentissage de la L2 en télécollaboration asynchrone et multimodale
The digital age allows the development of numerous practices in the field of foreign language teaching by setting up pedagogical devices that integrate technological tools, such as telecollaboration projects. By placing their practices in the research fields of Computer-Assisted Language Learning (CALL) and Computer-Supported Collaborative Learning (CSCL), telecollaboration projects allow, through digital communication tools, to connect learners with speakers from around the world. These projects aim to confront learners to authentic communication situations by working together to achieve a common goal and thus to develop language skills in the target language. Therefore, this study will describe an asynchronous and multimodal telecollaboration project, established between a class of English learners in a French middle School (Lorraine, France) and a class of French learners of an Alliance Française (Glasgow, Scotland). We will observe the dynamics involved in the collaboration in exolingual situation, enhanced by digital tools and how these dynamics impact the development of participants' language skills.
L'ère du numérique voit développer de nombreuses pratiques dans le domaine de l'enseignement des langues étrangères, notamment par la mise en place de dispositifs pédagogiques intégrant des outils technologiques, tels que les dispositifs de télécollaboration. En inscrivant leurs pratiques dans les champs de recherche de l'Apprentissage des Langues Médiatisé par Ordinateur (ALAO) et l'Apprentissage Collectif Assisté par Ordinateur (ACAO), les projets de télécollaboration permettent, par le biais des outils numériques de communication, de mettre en relation des apprenants avec des locuteurs du monde entier. Ces dispositifs ont pour objectif principal de confronter les apprenants à des situations de communication authentiques en les amenant à travailler conjointement à la réalisation d'un objectif commun et ainsi à développer des compétences langagières en langue cible. Cette étude vise donc à décrire un projet de télécollaboration asynchrone et multimodal, établi entre une classe d'apprenants d'anglais dans un collège français (Lorraine, France) et une classe d'apprenants du français d'une Alliance Française du Royaume-Uni (Glasgow, Écosse). Il s'agira ainsi d'observer les dynamiques en jeu dans la collaboration en situation de communication exolingue instaurée par les outils numériques et de percevoir de quelle manière ces dynamiques impactent le développement de compétences langagières des participants.
Fichier principal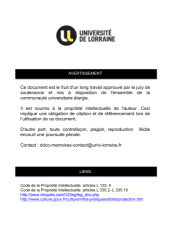 BUL_M_2018_BASSOR_MELISSA.pdf (4.11 Mo)
Télécharger le fichier
Origin : Files produced by the author(s)