"Русская церковная эмиграция и Московский Поместный собор 1917-1918 годов: принятие и применение соборных решений в 1920-1930 годах"
In the early 1920s, Russian church communities in Europe found themselves in a quite extraordinary situation, requiring a complete reorganization of their structure, both at the diocesan and parish levels. Having kept alive their memory of the 1917-1918 Moscow Council, many ecclesiastical figures in emigration viewed its decisions as reliable guidelines for creating a new church structure. Later on, however, the jurisdictional divisions followed, highlighting the two opposite attitudes to the Council heritage. Some considered il necessary to implement its decisions, whereas others preferred to change or even abolish the norms elaborated at the Council. This article explores how the Moscow Council served as a starting point in organising various ecclesiastical juridictions in emigration in the 1920-1930s and how these institutions carried out or not its decisions.
В начале 1920-х гг. русские церковные общины в Европе оказались в совершенно неординарной ситуации, требу/щей полного переустройства своих структур как на епархиальном, так и на приходском уровне. Многим церковным деятелям в эмиграции, у которых память о Московском соборе 1917-1918 гг. осталась еще живой, соборные решения показались надежным ориентиром, чтобы созидать такое новое церковное устройство. Однако возникшие вскоре юрисдикционные разделения проявили две противоположные позиции по отношению к наследи/ Собора: одни считали необходимым исполнение решений Собора, другие предпочитали изменить или даже упразднить выработанные на Соборе нормы. В данной статье исследуется, как Московский собор послужил отправной точкой в образовании разных церковных юрисдикций в эмиграции в 1920-1930-х гг. и как их учреждения применили июли не применили речения Собора.
Fichier principal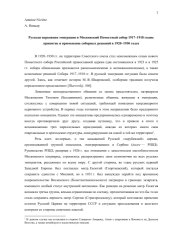 Moskovskij sobor article final.pdf (319.24 Ko)
Télécharger le fichier
Origin : Files produced by the author(s)