"Taak prappa": Voice, Orality and Absence in David Dabydeen's Slave Song"
David Dabydeen's collection of poems Slave Song (1984) represents the Guyanese poet's attempt to compensate for the silence surrounding slavery and the absence of a significant body of poetry in Creole. In a series of 14 poems written in Guyanese Creole and accompanied by illustrations dating from the eighteenth and nineteenth centuries as well as explanatory notes and translations in standard English, the poet evokes the lives of plantation slaves and modern-day peasants through forms that both imitate folk poetry and evoke European genres like the pastoral and the elegy. Through an analysis of this intertwining of local and European forms and of the use of Creole in Slave Song, this article examines the collection as an attempt on the part of the poet both to generate presence and to recognize the impossibility of filling the gaps left by a painful past.
Dans son recueil de poèmes Slave Song (1984) le poète anglophone d'origine guyanaise David Dabydeen tente de répondre au silence qui entoure l'esclavage et de compenser l'absence d'une poésie composée en créole. Dans une série de 14 poèmes en créole guyanais accompagnés d'illustrations datant du dix-huitième et dix-neuvième siècle, mais également de notes et de traductions en anglais standard, le poète évoque la vie des esclaves dans les plantations, ainsi que celle des paysans au vingtième siècle. Sur le plan formel, les poèmes mêlent formes folkloriques et modèles européens. Par une analyse de ce métissage de formes locales et européennes et de l'utilisation du créole dans Slave Song, cet article propose de regarder le recueil comme la tentative du poète pour générer une présence et en même temps reconnaître l'impossibilité de combler les lacunes du passé.
Fichier principal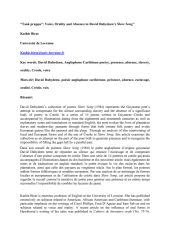 Birat_Dabydeen.versionfinale.pdf (224.58 Ko)
Télécharger le fichier
Origin : Files produced by the author(s)