Le rôle des dispositions antérieurement acquises dans le processus d'émergence des normes en contextes extrêmes
According to previous studies, extreme environments are associated with the emergence of new phenomena that can be new forms of behavior, norms, structures, and organizations. Our study focuses on the story of a group of rugby players, their friends and families who survived the Uruguayan Air Force plane accident from Montevideo to Santiago de Chile that crashed in the Andes on October 13, 1972. Our data corpus is based on their testimonies included in 4 autobiographies, 2 books written by journalists and press and radio conferences. By considering the referential illusion and the biographical illusion, we try to analyze the norms that have emerged within the group of survivors. For this, we based our study on two theoretical approaches – symbolic interactionism and the dispostionalist approach of the theory of action. Our analysis shows that previously acquired dispositions have a preponderant role in the emergence of norms after a disaster. We believe that by studying the role of previously acquired dispositions in the process of the emergence of norms in extreme contexts, we are contributing to the research on the emergence of norms by responding to the need to understand the role of culture in this process. We believe that we also contribute to the literature on the transferability of dispositions acquired through the practice of sport to other areas, in our case, this being a survival experience.
Según estudios previos, los ambientes extremos están asociados con la aparición de nuevos fenómenos que pueden ser nuevas formas de comportamientos, normas, estructuras y organizaciones. Nuestro estudio se centra en la historia de un grupo formado por jugadores de rugby, sus amigos y familiares que sobrevivieron al accidente aéreo de la Fuerza Aérea Uruguaya de Montevideo a Santiago de Chile, que se estrelló en los Andes el 13 de octubre de 1972. Nuestros datos se basan en sus testimonios incluidos en 4 autobiografías, 2 libros escritos por periodistas, así como conferencias de prensa y radio. Teniendo en cuenta la ilusión referencial y la ilusión biográfica, intentamos analizar las normas que surgieron dentro del grupo de supervivientes. Para ello, nos apoyamos en dos enfoques teóricos: el interaccionismo simbólico y el enfoque disposicionalista de la teoría de la acción. Nuestros principales resultados revelan que hubo tres grupos de normas que surgieron dentro del grupo de sobrevivientes: 1) normas relacionadas con los roles desempeñados por los miembros del grupo, 2) normas relacionadas con la distribución equitativa de recursos y 3) normas ligadas a los cuerpos de personas muertas. Nuestro análisis también muestra que las disposiciones adquiridas previamente juegan un papel clave en el surgimiento de normas después de un desastre. Creemos que, al estudiar el papel de las disposiciones previamente adquiridas en el proceso de aparición de normas en contextos extremos, estamos contribuyendo a la investigación sobre la aparición de normas respondiendo a la necesidad de comprender el papel de la cultura en el proceso de aparición de normas. Creemos que también contribuimos a la literatura sobre la transferibilidad de las disposiciones adquiridas por la práctica del deporte a otros campos de acción, en nuestro caso, siendo esta una experiencia de supervivencia.
Selon les études antérieures, les environnements extrêmes sont associés à l'émergence de nouveaux phénomènes qui peuvent être des nouvelles formes de comportements, normes, structures et organisations. Notre étude porte sur l'histoire d'un groupe constitué par des joueurs de rugby, leurs amis et les membres de leurs familles qui ont survécu à l'accident d'avion de l'armée de l'air uruguayenne qui, allant de Montevideo à Santiago du Chili, s'est écrasé dans les Andes, le 13 octobre 1972. Notre corpus de données est basé sur leurs témoignages inclus dans 4 autobiographies, 2 livres écrits par des journalistes et des conférences de presse et de radio. En prenant en compte l'illusion référentielle et l'illusion biographique, nous essayons d'analyser les normes qui ont émergé au sein du groupe de survivants. Pour cela, nous nous sommes basés sur deux approches théoriques – l'interactionnisme symbolique et l'approche dispostionnaliste de la théorie d'action. Nos résultats principaux révèlent qu'il y avait trois groupes des normes qu'ont émergé au sein du groupe des survivants – 1) normes liées aux rôles exercés par les membres du groupe, 2) normes liées à la distribution équitable des ressources et 3) normes liées aux corps morts. Notre analyse montre aussi que les dispositions antérieurement acquises ont un rôle prépondérant dans l'émergence de normes après un désastre. Nous considérons qu'en étudiant le rôle des dispositions antérieurement acquises dans le processus d'émergence des normes en contextes extrêmes, nous contribuons à la recherche sur l'émergence des normes en répondant au besoin de comprendre le rôle de la culture dans ce processus. Notre étude présente aussi un apport à la littérature sur la transférabilité des dispositions acquises par la pratique du sport aux autres domaines, dans ce cas, à une expérience de survie.
Fichier principal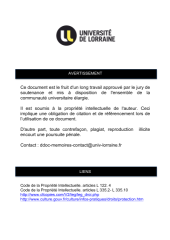 LSHS_M_2021_RUFFO_JUAN.pdf (1.42 Mo)
Télécharger le fichier
Origin : Files produced by the author(s)