The color-odor associations : is there a difference in odor identification depending on the olfactory status ?
La relation couleur-odeur : existe-t-il une différence d'imagination olfactive en fonction du statut olfactif ?
INTRODUCTION:Cette étude explore les relations entre les couleurs et les odeurs chez des sujets sains et atteints de troubles olfactifs. Le but de l'étude est de comparer la capacité à imaginer les odeurs à partir de cartes colorées chez les sujets anosmiques, hyposmiques ou normosmiques. MATÉRIELS ET MÉTHODE : Tous les patients consultant pour des symptômes rhinologiques avec ou sans perte acquise de l'odorat ont été inclus entre décembre 2019 et juin 2020. L'évaluation de l'odorat a été effectuée grâce au Sniffin' Stick Test afin de définir 3 groupes : normosmiques, anosmiques et hyposmiques. L'imagination olfactive a été testée en présentant des stimuli visuels colorés représentés par sept cartes colorées spécifiques d'une odeur. Les réponses libres et forcées parmi 4 propositions étaient relevées. RÉSULTATS : 153 sujets français (62 hommes et 91 femmes, moyenne d'âge de 43,9ans) ont été inclus dont 33 (21%) anosmiques, 74 (48,4%) hyposmiques, et 46 (30%) normosmiques. Le recueil des réponses concernant l'identification des odeurs lors de la présentation des cartes colorées sans propositions montre des pourcentages assez faibles, qui varie de 0,6% à 22,9%. Après suggestion des propositions (choix forcé), les pourcentages des réponses obtenues augmentent et varient de 24,7% à 58,8%. Quelle que soit la carte, le statut olfactif n'influençait pas significativement l'identification de l'odeur. CONCLUSION : Il n'y a pas de différence significative d'imagination olfactive en réponse à des stimuli visuels colorés en fonction du statut olfactif. L'association « imagination olfactive – couleur » existe même en présence de trouble olfactif acquis.
Fichier principal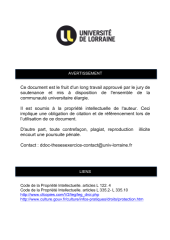 BUMED_T_2020_HAMITOUCHE_SARAH.pdf (2.4 Mo)
Télécharger le fichier
Origin : Files produced by the author(s)