Presbyphagie et prévention : élaboration d'un outil d'auto-évaluation dans le cadre d'une action de prévention relayée par les médecins généralistes
Population is going to be more and more aged, then we are increasingly faced with new pathologies. Presbyphagia is part of them. This swallowing disorder associated with age is actually unknown by the medical professions. It can have significant impact on the older people health. Our prevention work fit into the continuity of Geraldine USQUELIS study, who showed and demonstrated the limited informations wich are available for medical corporations and general practitioners to help them track Presbyphagia. Our target is to find the way to educate and inform the elderly and general practitioners of the existence of this desease, giving them all the tools to suspect it as well. As we would like to educate and inform the eldery, we make the assumption that the self-evaluation quiz allows and awareness of signs evocative, factors favoring presbyphagia and their consequences. To enable us to confirm this hypothesis, we also modeled a multiple choice test called " GETTING AWARENESS" to assess the knowledge of the respondents before and after passing the self-assessment. At the same time, we have created an information tool for general practitioners to inform them on keys concepts of Presbyphagia. To check the effectiveness of our information tool and self-assessment questionnaire offered to patients, we also asked the general practitioners participant in our study, to complete another quiz to enable us to obtain theirs views and comments. All our assumptions were validated by our results. The results of our work have allowed us to show greater awareness and betterunderstanding of the presbyphagia for all respondents.
La population étant vieillissante, nous sommes de plus en plus confrontés à de nouvelles pathologies. La presbyphagie en fait partie. Ce trouble de la déglutition lié à l'âge est encore mal connu du corps médical et peut avoir des répercussions importantes sur la santé des personnes vieillissantes. Notre travail de prévention rentre dans la continuité de l'étude menée par Géraldine USQUELIS qui a démontré le peu d'informations mises à disposition des médecins pour les aider à dépister la presbyphagie. Notre but est la sensibilisation et l'information des personnes âgées et des médecins généralistes de l'existence de cette pathologie ainsi que des éléments permettant de la suspecter. Dans cet objectif de sensibiliser et d'informer les personnes âgées, nous avons émis l'hypothèse que le questionnaire d'auto-évaluation permettrait une prise de conscience des signes évocateurs et des facteurs favorisant la presbyphagie ainsi que de ses conséquences. Pour nous permettre de valider cette hypothèse, nous avons également modélisé un questionnaire appelé « PRISE DE CONSCIENCE » permettant d'évaluer les connaissances des personnes interrogées avant et après la passation de l'auto-évaluation. Dans un même temps, nous avons créé un outil d'informations, destiné aux médecins généralistes afin de les renseigner sur les notions clefs de ce trouble qu'est la presbyphagie. Pour vérifier la pertinence de notre outil d'informations et de notre questionnaire d'auto-évaluation proposé aux patients, nous avons aussi demandé aux médecins participant à notre étude de remplir un questionnaire pour nous permettre de recueillir leurs avis et remarques. L'analyse de nos résultats a permis de valider nos hypothèses. En effet, les résultats de notre travail ont permis de montrer une meilleure sensibilisation ainsi qu'une meilleureconnaissance de la presbyphagie pour les personnes interrogées.
Fichier principal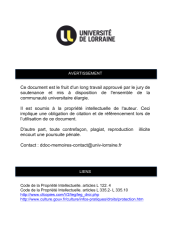 BUMED_MORT_2016_O_NEILL_AUDREY_GUILLAUMONT_ELORA.pdf (1.94 Mo)
Télécharger le fichier
Origin : Files produced by the author(s)