Obstacles au suivi gynécologique annuel de prévention : enquête auprès d'étudiantes de facultés et écoles de Nancy âgées de 18 à 24 ans
INTRODUCTION: Women student use a contraception which need a supervision for 93,6% of them. But, They are going specifically to gynecological consultation for 45% in 2015, according to mutual assistance company's studies. We wanted to search the reason of that problem. METHODS: We realized a qualitative study. Semi-directive interviews were making by 18 to 24 year old from faculties and school from Nancy. OUTCOMES: 16 obstacles were finding through this study. DISCUSSION: These obstacles were analyzed and removed thanks to literature's recommendations. A lack of information persists.
INTRODUCTION: 93,6% des étudiantes utilisent une contraception nécessitant une surveillance. Différentes études réalisées par des mutuelles étudiantes ont révélé que seules 45% d'entre elles consultaient spécifiquement en gynécologie en 2015. Nous avons cherché à en connaître les raisons. MATÉRIEL ET MÉTHODE : Une étude qualitative descriptive a été réalisée, avec entretien semis directifs, auprès d'étudiantes de 18 à 24 ans de facultés et écoles de Nancy dans l'objectif de répertorier les obstacles au suivi gynécologique de prévention. RÉSULTATS : 16 freins au suivi spécifiquement gynécologique ont ainsi été répertoriés. DISCUSSION : Ces obstacles ont étés analysés et levés en s'aidant des données de la littérature. Un manque d'information persiste chez ces étudiantes.
Fichier principal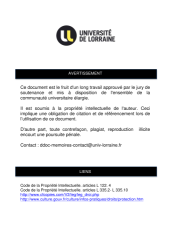 BUMED_MESF_2016_LIGUORI_MARGAUX.pdf (938.46 Ko)
Télécharger le fichier
Origin : Files produced by the author(s)