Un livret d'accompagnement à l'allaitement maternel : création, mise en place et évaluation à la maternité du CHRU de Nancy du 6 mai au 24 juillet 2015
INTRODUCTION: The benefits of breastfeeding are many. Objective of this work was to develop and to generalize a document accompanying women who made the choice to breastfeed. MATERIAL AND METHOD: Search act consisting in creation and distribution of this document and of assessment questionnaires for midwives working in Nancy area. RESULT: The majority of respondents midwives consider the advice given to patients, regarding breastfeeding, contradictory. The accompanying booklet has been little used in practice. DISCUSSION: This study has highlighted the importance of consistency in discourse about breastfeeding and in professional's training. It was inconclusive as to the use of the accompanying booklet.
INTRODUCTION : Les bienfaits de l'allaitement sont nombreux. L'objectif de ce travail était de mettre en place et de généraliser un document accompagnant les femmes faisant le choix d'allaiter. MATÉRIEL ET MÉTHODE : Une recherche action consistant à la création et à la distribution de ce livret et à son évaluation par des questionnaires destinés aux sages-femmes travaillant dans la région nancéenne. RÉSULTATS : La majorité des sages-femmes interrogées jugeaient les conseils délivrés aux patientes, concernant l'allaitement, contradictoires. Le livret d'accompagnement a été peu utilisé en pratique. DISCUSSION : Cette étude a mis en évidence l'importance de la cohérence des discours concernant l'allaitement et de la formation des professionnels. Elle n'a pas été concluante quant à l'utilisation du livret d'accompagnement.
Fichier principal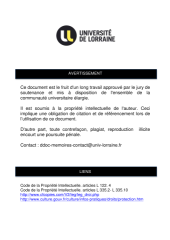 BUMED_MESF_2016_PEUDON_CHARLOTTE.pdf (1.12 Mo)
Télécharger le fichier
Origin : Files produced by the author(s)