Description et interprétation du Rythme Cardiaque Foetal par les sages-femmes : (Analyse des connaissances professionnellesen fonction de la formation « e-learning RCF ») : étude observationnelle à visée diagnostique et évaluative,comparative et multicentrique de type cas/témoins sur47 sages-femmes de maternités publiques de Lorraine en 2016/2017
INTRODUCTION: Despite the importance of a current consensus concerning the fetal heart rate (FHR) analysis, subjective variations persist in French maternities. The issue is whether FHR e-learning training may participate in their reduction. The main objective is knowing the impact of this type of training on the midwives' knowledge of and their daily analysis. MATERIAL AND METHOD : It was an observational diagnostic evaluative comparative and multicenter case control study. It took place in four public maternities in Lorraine from November 2016 to April 2017. The selected midwives worked there in the concerned departments. The cases were the FHR e-learning trained midwives, the witnesses who did not benefit from it. Data was collected by questionnaires with four cardiotocograms to be analyzed. The main selection criterion was the number of FHR e-learning trained midwives and those who knew the criteria for analysis. The secondary criteria were the maternity type, the initial training length, the ease stage since entering the labor force, the presence of another FHR training and the need to deepen one's knowledge. RESULTS: 47 midwives were surveyed. The result of the main criterion found 66.97% correct answers (n = 270) for the e-learning trained midwives, against 62% (n = 513) for the other. The result on the secondary criteria found no significant differences between the populations on the FHR analysis. DISCUSSION: This study shows that FHR e-learning training does not change its midwives' analysis. These results are inconsistent with other studies. A study with a larger sample has to be realized.
INTRODUCTION : Malgré l'importance d'un consensus existant concernant l'analyse du rythme cardiaque foetal (RCF), des variations subjectives persistent dans les maternités françaises. La problématique est de savoir si l'e-learning sur le RCF peut participer à leur diminution. L'objectif principal est de connaitre l'impact de ce type de formation sur les connaissances des sages-femmes et leur analyse quotidienne. MATÉRIEL ET MÉTHODE: Il s'agissait d'une étude observationnelle à visée diagnostique et évaluative, comparative et multicentrique de type cas/témoins. Elle s'est déroulée dans quatre maternités publiques lorraines, de novembre 2016 à avril 2017. Les sages-femmes incluses y travaillaient, dans les services concernés. Les cas étaient celles formées par e-learning sur le RCF, les témoins celles n'en ayant pas bénéficié. Les données ont été recueillies par questionnaires avec quatre tracés cardiotocographiques à analyser. Le critère de jugement principal était le nombre de sages-femmes formées au RCF par elearning et celles qui en connaissaient les critères d'analyse. Les critères secondaires étaient le type de maternité, la durée de formation initiale, le niveau d'aisance depuis l'entrée dans la vie active, la présence d'une autre formation sur le RCF et le besoin d'approfondir ses connaissances. RÉSULTATS : 47 sages-femmes ont été interrogées. Le résultat du critère principal a retrouvé 66,97% de réponses justes (n=270) pour les sages-femmes formées par e-learning, contre 62% (n=513) chez les autres. Le résultat des critères secondaires n'a retrouvé aucune différence significative entre les populations sur l'analyse du RCF. DISCUSSION : Cette étude montre que la formation RCF par e-learning ne modifie pas son analyse par les sages-femmes. Ces résultats ne concordent pas avec d'autres études. Une étude avec un plus grand échantillon doit donc être réalisée.
Fichier principal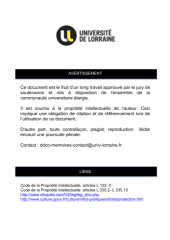 BUMED_MESF_2017_BAZAINE_ANAIS.pdf (2.59 Mo)
Télécharger le fichier
Origin : Files produced by the author(s)