La santé génésique et psychique des femmes victimes de violences sexuelles en France en 2020 selon une revue de la littérature
Introduction : October 2017 marked a turning point for the liberation of women's voices about a taboo subject: sexual violence. The silence surrounding this issue makes it difficult to quantify the number of victims. The aim here is to show what different repercussions sexual violence has on the lives of victims in France in 2020. The main objective of this study is to research the impact of this violence on women's reproductive and psychological health, and the suggested solutions on the French territory in 2020. Metholodogy: a review of literature including 10 articles published between 2005 and 2017. Results: The victim was often a minor at the time of the crime (59 to 90% of cases) and belonged to all socio-professional categories. The abuser was rarely unknown to them (17 to 33%), the facts were repeated in 40% to 86,8% of cases. Silence remained prevalent in 12 to 46% of them. Their state of health was impacted at all levels: sexual disorders, addictive behaviors, chronic pain/disease, psychological disorder. Pregnancy is a significant psychic reshuffle in which buried elements can emerge with tenfold intensity. Conclusion: Great strides have been noticed at the national level in recent years; however, the fight against violence has only just begun. Since 2017, the Moselle region has been working more actively in this fight: creation of the forensic unit, inclusion in "contrat local de santé" which provides policy guidance to Metz city council, signing of a departmental agreement on the fight against violence, the actions of the association "Stop aux Violences Sexuelles", etc. The midwife has a role to play in the screening that she must make systematic among her patients and in the support of victims, be at ease with this subject, and thus follow trainings.
Introduction : Octobre 2017 a marqué un tournant dans la libération de la parole des femmes à propos d"un sujet tabou : les violences sexuelles. Le silence qui entoure ce problème complique la quantification du nombre de victimes. Il s'agit ici de montrer quelles différentes répercussions les violences sexuelles ont sur la vie des victimes en France en 2020. L"objectif principal de cette étude est de rechercher l'impact de ces violences sur la santé génésique et psychique des femmes et les prises en charge proposées sur le territoire français en 2020. Méthodologie : Une revue de la littérature comportant 10 articles publiés entre 2005 et 2017 a été utilisée. Résultats : La victime était souvent mineure au moment des faits (59 à 90% des cas) et appartenait à toutes les catégories socioprofessionnelles. L'agresseur leur était rarement inconnu (17 à 33%), les faits étaient répétés dans 40 à 86,8% des cas. Le silence restait prégnant chez 12 à 46% d'entre elles. Leur état de santé était impacté à tous les niveaux : troubles sexuels, conduites addictives, douleurs/maladies chroniques, atteintes psychologiques. La grossesse est un remaniement psychique important où les éléments enfouis peuvent ressortir et d'intensité décuplée. Conclusion : De grandes avancées ont été remarquées nationalement ces dernières années, cependant le combat contre les violences ne fait que commencer. Depuis 2017, le territoire Mosellan travaille plus activement dans cette lutte : création de l'Unité Médico-Judiciaire, inclusion dans les contrats locaux de santé de la Mairie de Metz, signature d'une convention départementale relative à la lutte contre les violences, actions de l'association Stop aux Violences Sexuelles etc. La sage-femme a toute sa place dans le dépistage qu'elle doit rendre systématique chez ses patientes et dans l'accompagnement des victimes, être à l'aise avec ce sujet, et ainsi suivre des formations.
Fichier principal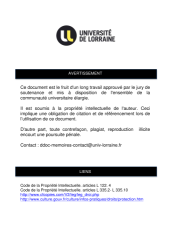 BUM_MESF_2020_JUPPONT_Marine.pdf (2.08 Mo)
Télécharger le fichier
Origin : Files produced by the author(s)