Labélisation FSC des Espaces Naturels Sensibles du Conseil départemental des Yvelines
The Yvelines Departmental Council (CD 78) owns 2,800 hectares of lands that have the legal status of "sensitive natural areas" (ENS). These are mainly forest areas managed in a sustainable manner with the French National Forestry Office (ONF). The CD 78 is interested in FSC® certification as it is consistent with its policies and will help to solve some current problems that it has to deal with. In order to enable the CD 78 to reinforce its position with regard to this certification, a diagnostic tool has been developed to evaluate to what extent the current forest management meets the requirements of the FSC® standard. This evaluation showed that the CD 78 does not comply with some certification principles and criteria. They were consequently identified as priorities to be addressed. This tool constructed is likely to evolve as it is taken by the CD 78 to monitor the changes in the evaluation and to prepare for the certification audits. This study was completed by a parallel work to identify the agents currently involved in the management of the ENS within the ENS department and the whole administration, as well as among the stakeholders.
Le Conseil départemental des Yvelines (CD 78) est propriétaire de 2 800 ha d'Espaces Naturels Sensibles (ENS). Il s'agit majoritairement des sites forestiers gérés de manière durable en relation avec l'Office National des Forêts. Le CD 78 s'intéresse à la certification FSC® dans la mesure où elle est en cohérence avec ses politiques et permettrait de répondre à certaines problématiques actuelles auxquelles il est confronté. Pour permettre au Conseil départemental de renforcer sa position vis-à-vis de la certification, un outil de diagnostic a été mis en place et a permis de produire une évaluation du niveau d'adéquation entre les exigences du référentiel et la gestion menée. Certains principes et critères ressortent ainsi comme prioritaire à traiter car le CD 78 ne répond pas aux exigences dans l'état actuel. L'outil construit est amené a évolué en étant repris par le CD 78 pour suivre dans le temps les évolutions du niveau d'adéquation et pour préparer les audits de certification. Cette étude a été complétée par un travail parallèle d'identification des acteurs actuellement concernés par la gestion des ENS au sein du service, de l'administration dans son ensemble et parmi les parties prenantes.
Fichier principal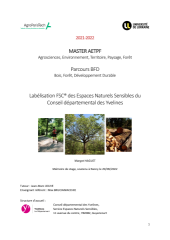 3A2022_HAGUET_BFD_VersionDiffusable.pdf (1.96 Mo)
Télécharger le fichier
Origin : Files produced by the author(s)