Reconstitution chimique des paléofluides par spectrométrie d'émission optique couplée à l'ablation laser. Applications aux fluides alpins et aux fluides de bassins
Chemical composition of geological fluids can be described in the H20-gas-salt system. Previous studies at CREGU and in the G2R laboratory have permitted to reconstruct the palaeofluid composition in the H2O-CO2-CH4-N2-H2S-NaC1 system. The aim of this work consists in the addition of the alkaline and alkaline-earth species (NaC1, KC1, ; LiC1, MgC12, CaC12), which is a necessary condition to characterise the chemical equilibrium between fluid and mineral. An analytical technique of single fluid inclusions, based on optical emission spectrometry coupled to laser ablation (LIBS) has been developed, using a prototype. This work is the result of collaboration with the LSLA (Laboratory of Analytical Laser Spectroscopy) at Saclay (CEA, France) and the Dilor firm. Using different standards (minerais, synthetic glasses and synthetic fluid inclusions): different calibration curves were established. Direct quantification of element concentrations for analysis on solids and estimations of cationic ratios (Na/K, Na/Li, Na/Ca, Ca/Mg, Ba/Sr .. . ) for the applications on fluid inclusions has been carried out. The integration of additional values obtained on the same samples, using microthermometry (salinity) and Raman spectroscopy (gas and chlorinity) allowed to determine the global composition offluid inclusions.First applications were performed on fluid inclusions from quartz samples, collected in alpine clefts in the Mont- Blanc massif. Significant data conceming the palaeo-circulation of fluids have been obtained. The variations of the chemical compositions of the alpine fluids demonstrate mixing between different end-members (Li-rich, Ca- rich and Na-rich), thus the existence of an homogenous fluid reservoir seems improbable. Fluid mixing is intermittent and local. Pressure- temperature conditions of trapping are estimated in the range of 2800 - 3600 bars and 330° and 420°C respectively, which correspond to estimated depths of 10.4 and l3.3 km, considering a lithostatic pressure. Studies of fluid inclusions in sedimentary basin have permitted the reconstitution 0 chemical composition of the palaeofluid (Caramal, Australia and Oklo, Gabon). The existence of mixing and/or dilution processes between several end-members for Caramal zone has been demonstrated. The presence of different generations of fluids, with contrasted compositions for the Oklo area, has been also described. This new analytical tool has been tested on solids. First analyses demonstrate that it is possible to quantify lithium in different matrixes (for example, quartz, glass and mica).
La composition chimique des fluides géologiques peut être décrite dans le système H2O-gaz-sels. Les travaux réalisés au CREGU puis dans l'unité G2R ont permis de bien reconstituer la composition des paléofluides dans le système H20-C02-CH4-N2-H2S-NaC1. L'objectif de ce travail est d'inclure les sels alcalins et alcalino-terreux (NaC1, KC1, LiC1, MgC12, CaC12), condition nécessaire pour caractériser les équilibres entre fluides et minéraux. Pour atteindre cet objectif, une méthodologie d'analyse localisée des inclusions fluides par spectrométrie d'émission optique couplée à l'ablation laser a été développée, en utilisant un prototype, issu d'une collaboration avec le LSLA(Laboratoire de Spectroscopie Laser Analytique) du CEA et fabriqué par la société Dilor. L'utilisation de divers standards (minéraux, verres et inclusions synthétiques) a permis d'établir plusieurs types de courbes de calibrage. Des quantifications directes de concentrations d'un élément pour l'analyse de solides et des calibrages pour des estimations de rapports cationiques (Na/K, Na/Li, Na/Ca, Ca/Mg, Ba/Sr...) pour l'application aux inclusions fluides ont été réalisées. L'intégration de données complémentaires obtenues sur les mêmes objets grâce à la micro thermométrie et la spectroscopie Raman (gaz et chlorinité) permet de connaître la composition g lobale des inclusions fluides. Les premières applications concernent l'étude d'inclusions fluides de quartz de cavités du massif alpin et ont permis d'obtenir des informations précieuses quant aux paléo-circulations des fluides ayant percolé dans les massifs cristallins externes alpins. Les variations de compositions chimiques des fluides alpins traduisent l'existence passée de mélanges entre différents pôles de fluides. Trois pôles ont été identifiés : un pôle riche en lithium, un pôle riche en calcium et un pôle à dominance sodique. Il ne semble donc pas exister un réservoir homogène, mais plutôt des mélanges locaux de fluides à partir de ces pôles. Ces processus ont probablement eu lieu par intermittence et lors de pulses locaux. Les températures de piégeage des fluides du granite sont comprises entre 330°C et 420°C pour des pressions estimées pour l'ensemble des localités entre 2800 bars et 3600 bars. Les profondeurs estimées, en considérant un régime lithostatique, sont comprises entre 10.4 et13.3 km. Des analyses d'inclusions fluides témoins d'interactions socle-couverture (gisement d'uranium à Caramal, Australie et à Oklo, Gabon) ont permis la reconstitution de la composition chimique des paléofluides présents dans les bassins sédimentaires. Elle met en évidence des phénomènes de mélange et/ou de dilution entre différents pôles pour le site de Caramal, et différentes générations de fluides aux compositions contrastées pour les fluides ayant circulé autour du réacteur d'Oklo.
Fichier principal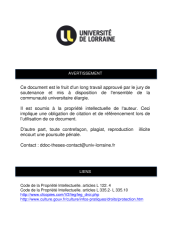 SCD_T_2000_0129_FABRE.pdf (48.3 Mo)
Télécharger le fichier
Origin : Files produced by the author(s)