Optimisation de modèles de culture 3D pour la différenciation des cellules souches mésenchymateuses : application à la chondrogénèse
ln this study, we were interested in the reconstruction of cartilage tissue based on human mesenchymal stem cells (hMSCs). These cells were characterized by phenotype analysis (CD 34- /CD45-/CD166+/CDI66+/CD90+/CD73+), then they were pipetted in 3D culture, rnicromass. We analyzed the typical mesenchymal markers (CDI05, CD166 and CD90) by flow cytometry along 21 days of cultu:e. The differentiation of hMSCs was induced in micromass cultures with a serum-free medium containing TGF-b1 (10ng/ml). We investigated the modification of cell phenotype, analyzed metabolic activity and proliferation. Our experimental results showed a decrease of hMSCs phenotype markers and appearance of eàiracellular matrix. Furthermare, the analysis of cell cycle revealed a decrease of proliferation activity. We have also defined, in the second part of our study, the culture conditions of a biomaterial (alginate gel) used in cartilage tissue engineering. Different viscosities and concentrations of the biomaterial were monitored. CeIl toxicity and cell proliferation were deterrnined. These results allowed us ta define the experimental condition that will be used in future cartilage tissue engineering study, namely in the effect of mechanical compression.
Dans cette étude, nous nous somnes intéressés à la reconstruction d'un tissu cartilagineux à partir de cellules souches mésenchyrnateuses humaines (CSMs). Une fois les cellules identifiées comme étant des cellules souches mésenchymateuses et non des cellules souches hématopoïétiques (CD34-/CD45ïCDI05+/CD166+/CD90+/CD73+), nous avons placé ces CSMs dans un concept de culture 3D, les rnicromasses, et nous avons contrôlé leur phénotype en fonction du temps de culture, par des mesures en cytométrie en flux. Les marqueurs mésenchymateux classiques (CD105, CD166 et CD90) ont ainsi été suivis pendant 21 jours. Après avoir initié la différenciation des CSMs par ce type de culture 3D et l'ajout d'un milieu approprié (TGF-b1 à , 10ng/ml), nous avons effectué une étude cinétique de la modification de leur phénotype, ainsi qu'un contrôle de leurs activités métaboliques et de prolifération. En effet, nous avons pu observer la diminution des marqueurs phénotypiques propres aux CSMs et l'apparition d'une matrice extracellulaire. De plus, nous avons mis en évidence une baisse de leur activité de prolifération par l'étude du cycle cellulaire. Nous avons, dans la seconde partie cie nos travaux, défini les conditions de culture dans un biomatériau pouvant être utilisé dans les travaux d'ingénierie tissulaire du cartilage (i.e. gel d'alginate). Différentes viscosités et concentrations du biomatériau ont été testées et les paramètres de toxicité cellulaire et de prolifération cellulaire ont été déterminés. Nous avons ainsi pu définir les condItions d'études qui seront appliquées à l'avenir pour les tests en ingénierie tissulaire du cartilage, notamment pour les travaux sous l'effet de contraintes mécaniques.
Fichier principal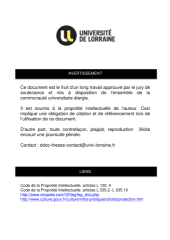 SCD_T_2006_0251_YANG.pdf (8.96 Mo)
Télécharger le fichier
Origin : Files produced by the author(s)